Stories From the Jordan Trail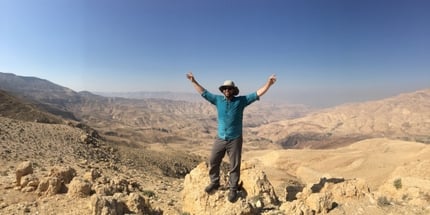 It's Halftime!
Officially past the halfway point on the Jordan Trail Thru-Hike, Andrew has shared with us many breathtaking photos and exciting and heartwarming tales of adventure. He has been documenting many of these through his blog, but Jordan Tourism Board North America would like to share with you some highlights of his trip so far.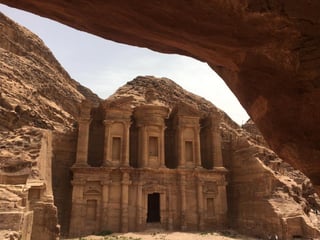 Petra! One of "the most beautiful sights planet Earth has to offer" according to MSN!
Andrew had this to say...
"Arriving in Petra, I felt such a sense of accomplishment. It's been over a month now that we've been hiking—we have seen so much along the way, but this iconic standard of ancient architecture is a symbol of the true distance we've come. So far we've hiked 470 km—the longest hike I've ever done in my life. We have almost 200 left to go, most of it in the desert. Every day is a dream, filled with scenes like this. #AndrewWalksJordan #ThruJT"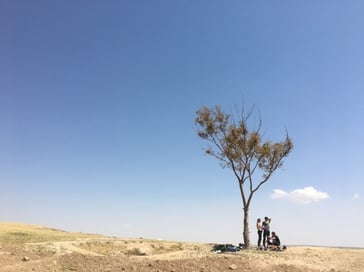 Blood, Sweat and Tears on the Jordan Trail

The Mohammads have taken to calling me "Sheikh Nawaf"—even introducing me as such to strangers we meet—and yet it took me almost a week to get a proper translation of my nickname. In our hours spent hiking, the linguistic question sparked a small debate among the Arabic-speakers in our group.
"Nawaf is the highest place . . ." said one. "You know when you are climbing and then you can't climb any higher?"
"Like a plateau," another joined in, "They are calling you 'plateau'."
"As in, I've already plateaued?" I wondered out loud.
"No, no," another countered. "It's the peak—it means mountain peak, because you are the tallest."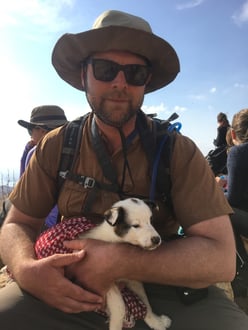 Finding Nebo: A Surprise Encounter Along the Jordan Trail

We heard him before we saw him—the puppy was yelping in the road, running in circles and hopping around, struggling and clearly suffering.
"A puppy!" we cried, quickly scanning the area for any sign of a mama dog, but she was not there, and there were no other puppies around. The constant sound of a lost and lonely puppy howling out in pain was too heartbreaking, and though we had not even hiked our first mile that morning, I dropped to my knees, pulling the small and scrappy dog up into my chest.
He could not have weighed more than a few pounds and was utterly filthy, his dense white fur all matted and brown with gunk. Leaves, branches and bugs all clung to his bony little body and he continued to howl the high-pitched howl of a wounded animal.
Check out the latest from the ground at #AndrewWalksJordan and on Facebook!
Queen Rania on the Jordan Trail!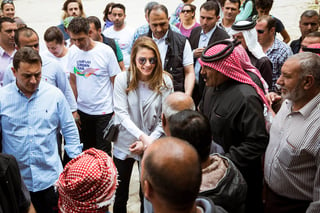 Queen Rania is touring Dana Village in Tafileh Governorate as part of the Jordan Trail Association's Thru-Hike. Check out her awesome video and photos that feature our very own Andrew Evans!
Gearing Up for AdventureNEXT Near East 2017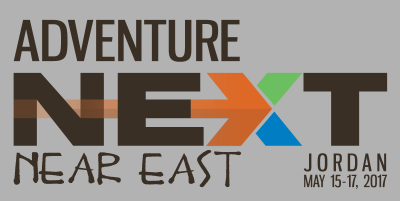 In less than two weeks, adventure tourism professionals will meet along the Dead Sea in Jordan for the 2017 AdventureNEXT Near East Conference. Support from local suppliers and enthusiasm from registered delegates is at an all time high and gives promise for an exciting and groundbreaking event! The conference will host a number of fantastic keynote speakers, including Andrew Evans and Annie Griffiths, as well as a number of delegates, media and buyers. AdventureNEXT, which helps put emerging destinations on the adventure travel map, is the first event of its kind to highlight eco-tourism and adventure travel in the Near East and Jordan Tourism Board North America is thrilled to attend. "A big thank you to the ATTA team, everyone attending and everyone who has worked so hard behind the scenes to make this one-of-a-kind conference happen!"
From Matt Damon to Base Jumping - Jordan has it all!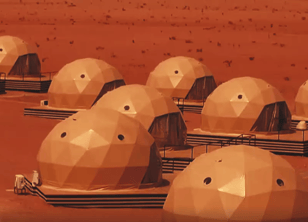 Check out this awesome video posted by the Huffington post showcasing a desert hotel in Jordan inspired by the movie "The Martian" starring Matt Damon. The movie itself was actually shot nearby!
It may seem inhospitable but there is plenty of AC and quality room service to go around.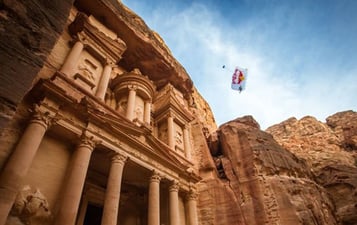 See Miles Daisher make a crazy base jump!
Just when you think the ancient city of Petra has probably witnessed everything in its history, here comes Miles Daisher.
The Red Bull Air Force team member – who's completed 4,299 BASE jumps in addition to his 7,200 skydives – had his eyes set on the UNSECO World Heritage Site Petra Treasury to celebrate BASE jump number 4,300.
Testimonials
"Our Jordan trip was one of our memorable trips in recent years. Tala from Experience Jordan helped us to plan and book our trip and she was amazing helping me all along. Traveling with a toddler is not at all easy. She booked the best accommodation for us including our stay in Wadi Rum. I really appreciate the way Experience Jordan did a last minute reshuffle of our tour due to our flight getting cancelled in last minute. I would strongly recommend availing services from Experience Jordan any given day. Lastly I would like to thank Ahmed our driver for the whole trip. His guidance, warmth and hospitality really made us comfortable throughout the trip. Thanks again for the hospitality really miss it!!"

Have you been to Jordan and want to share about your experience or are you thinking of going to Jordan and want to know what people thought? Either way visit our testimonials page to
join the conversation!