Happy New Years!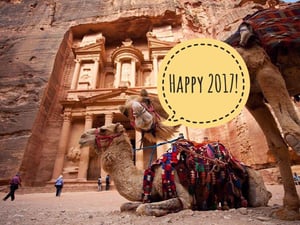 Happy 2017!
We are so grateful for all of your support so far and hope that you all have a great upcoming year!
News from Jordan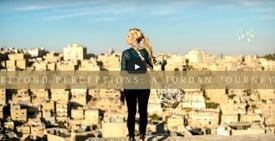 Beyond Perception: A Jordan Journey
Kara Mercer took a trip along the Jordan Trail, and what she discovered was not hostility, but a staggering hospitality. The video she captured was breathtaking. The trip looks incredible, and not just because Jordan's a beautirul place - but because it's full of beautiful people too. [Matador]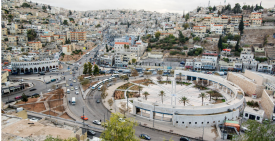 36 Hours in Amman, Jordan
Amman is often a pit stop on the way to Petra, but there are anough old and new flavors to keep visitors satisfied for the weekend.
[The New York Times]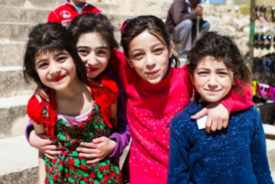 How to Experience Jordan's Warm Hospitality
The notion of hospitality is often associated with professional hotels and restaurants. But in Jordan, there's an authentic and widespread culture of hospitality that's reflected in the everyday interactions of locals with visitors - beginning with a keen desire to make everyone feel welcome. [AFAR]
12 Reasons We Love Jordan
Jordan has plenty of surprises up its sleeves, including empty hiking trails, Red Sea diving, foodie experiences, and a mind-boggling array of castles, ruins, and archaeological sites. This easygoing nation makes it simple to cram a lot into one journey, and its small size means you can swing between historical ruins and sprawling desert scenery on even the quickest trip. [AFAR]
Jordan in the Press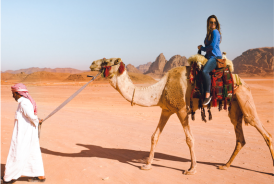 Here's Where You Need to Book a Vacation to in 2017
Jordan: Because ancient cities await your discovery. Step back in time and channel your inner Indiana Jones in this unique, adventurous and safe Middle Eastern destination. From floating in the Dead Sea to exploring the ancient city of Petra and from diving the Red Sea to discovering the red desert of Wadi Rum, adventure waits at every corner. Fly direct from the U.S. on Royal Jordanian Airlines from New York and Chicago. [The Huffington Post]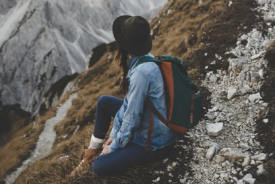 9 Destinations Every Adventurous Woman Should Visit in 2017
With new trails and lodges opening all around the globe, there's never been a better time to lace up your hiking boots and set out for adventure in some of the world's most beautiful destinations. Whether you seek to summit South American mountains, thru-hike in the European wilds, or march side-by-side with Antarctic penguins, now is the time to get acquainted with the world's most rugged and pristine lands. Here, the top adventurous destinations every woman should visit in 2017. [Vogue]
Discover Your Jordan!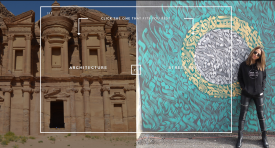 Take the Quiz!
[Black Tomato]
Featured Blog Post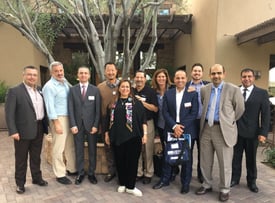 The Jordan Tourism Board and JITOA (Jordan Inbound Tour Operators Association) are proud to announce their partnership with Tourism Cares, the public charity dedicated to help restoring and preserving top sites around the world. The partnership is aimed at supporting Jordan's destination communities and cultural heritage. Read more here.
Christmas in Jordan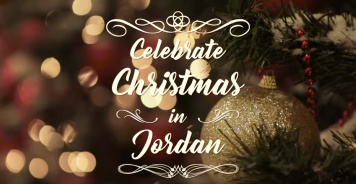 See what it was like to celebrate Christmas in Jordan in 2016 here!
Testimonials
Have you been to Jordan and want to share about your experience or are you thinking of going to Jordan and want to know what people thought? Either way visit our testimonials page to
join the conversation!