Andrew Walks Jordan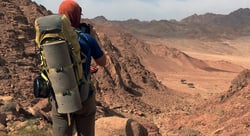 Follow Andrew!
On March 31st Andrew Evans departed from Um Qais on a 600-km walk through the Jordan Trail, reaching his final destination of Aqaba and the Red Sea. Follow him as he completes this 40-day hike across the entire country, embraces the unexpected,
risks old assumptions and gains new perspectives.
Start Following Andrew Now!
Stories from the Jordan Trail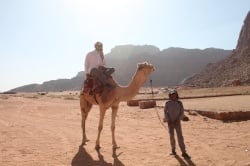 Follow Andrew Evans On the Jordan Trail
Last November, I traveled to the ancient city of Um Qais and hiked the first hour of The Jordan Trail. The air was dry and warm, with Mediterranean blue skies and wild olive trees shading the path. I dug my boots into the pink dust and tiptoed down the steep overture of this new adventure, then promptly tripped and fell. Looking down, I realized the rubber sole had peeled away from my right boot. After a decade of hiking around the world—thousands upon thousands of miles and touching all seven continents—my favorite boots had died. Read More...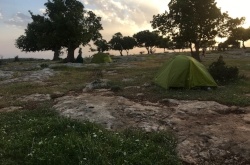 The First Day
Three drops of rain fell on my head, and then it stopped. In a few seconds, the dark mist of rain vanished in favor of the more common sunshine that matched the mood of the crowd. Ours was a small gathering—a few dozen of us, standing outside the historic ruins of Um Qais on a quiet Friday morning. Some hikers were busy filling their bottles and packs with water, others tightened their bootlaces, checking their phones one last time, but then we all stopped to listen. Read More...
Andrew has been in Jordan for a week! Check out the lastest photos and videos from the ground at #AndrewWalksJordan and on Facebook!
Win a Trip for 2 to Jordan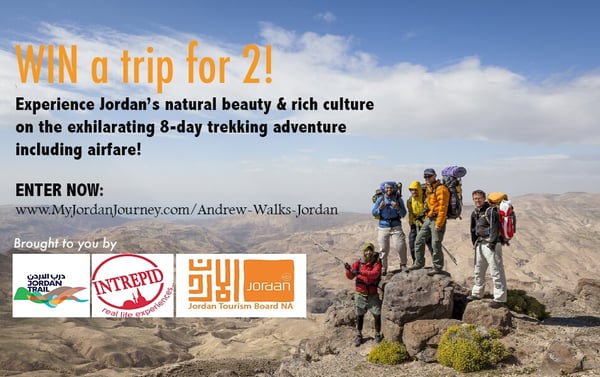 Subscribe to receive updates on Andrew Evan's journey across Jordan for a chance to win this fantastic trip from Intrepid to Jordan complete with round-trip airfare! Learn More Here!
Want to increase your chances of winning the trip to Jordan even more? Earn an additional entry by replying to this email and recommending a friend to receive updates
Featured Tour Operator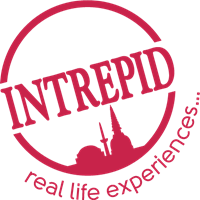 Intrepid Travel's small group style of travel means you'll stay under the radar, and travel, eat and sleep the local way. You'll have the unsurpassed knowledge of a local leader, taking you out of the guidebooks and into a world you're waiting to discover. Intrepid Travel offers 15 tours that visit Jordan, as well as over 1000 itineraries across every content so you can find the adventure that's just right for you.
More About the Jordan Trail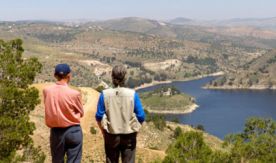 Explore All of Jordan by Foot with New 640km Trail
Jordan's Tourism Ministry has finally approved The Jordan Trail, a 640 km path connecting Um Qais in the north to the Red Sea in the south. If you're looking to explore Jordan by foot, this is definitely for you! The trail will allow explorers to cross the entire country of Jordan in just over a month! Starting from Umm Qais and leading all the way to Aqaba, the trail will most definitely allow local and international hikers to explore Jordan's various ecosystems and cities. [Step Feed]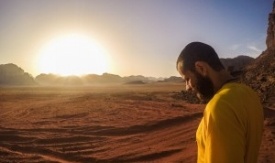 USAID-Backed Jordan Trail Leads Beyond Petra
Winding 640 kilometers from Um Qais in the north to Aqaba in the southern end of the country, the "Jordan Trail" was born from the extensive work of over 30 volunteers over the last three years. It was built on the wanderings of a British couple, Tony and Di Howard, who spent 30 years in Jordan mapping routes and publishing hiking guide books. The trail was formalized in 2015 by the establishment of the Jordan Trail Association (JTA), spearheaded by Muna Haddad, Founder and Managing Director of Experience Baraka and now president of the JTA. [Adventure Travel News]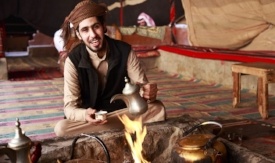 Why Jordan Needs - and Deserves - Adventure Industry Attention
Jordan is a spectacular destination with the iconic Petra and Wadi Rum, the lesser-known Aqaba for diving, the Dana Nature Preserve, and hundreds of incredibly fascinating archaeological and historical sites in the region. The cuisine is second-to-none, and a friendly, welcoming culture underpins a destination that is transformative to the travelers who go there. [Adventure Travel News]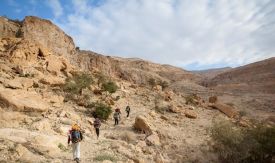 The Ultimate Guide to Hiking the New
Jordan Trail
One of the most exciting and diverse new trails in the Middle East, the Jordan Trail weaves through the lush forests of the north to the Dead Sea canyons, into the ancient cities of Karak and Petra, and to the dramatic desert landscapes of Wadi Rum. Each day is sure to bring something new, as the trail takes you on a journey through Jordan by foot. You'll encounter ancient sites, walk in deserts, explore canyons, meet Bedouins cooking traditional bread underground, and drink plentiful cups of tea from locals welcoming you to their homes. [Wanderlust]

Testimonials
"Our Jordan trip was one of our memorable trips in recent years. Tala from Experience Jordan helped us to plan and book our trip and she was amazing helping me all along. Traveling with a toddler is not at all easy. She booked the best accommodation for us including our stay in Wadi Rum. I really appreciate the way Experience Jordan did a last minute reshuffle of our tour due to our flight getting cancelled in last minute. I would strongly recommend availing services from Experience Jordan any given day. Lastly I would like to thank Ahmed our driver for the whole trip. His guidance, warmth and hospitality really made us comfortable throughout the trip. Thanks again for the hospitality really miss it!!"

Have you been to Jordan and want to share about your experience or are you thinking of going to Jordan and want to know what people thought? Either way visit our testimonials page to
join the conversation!