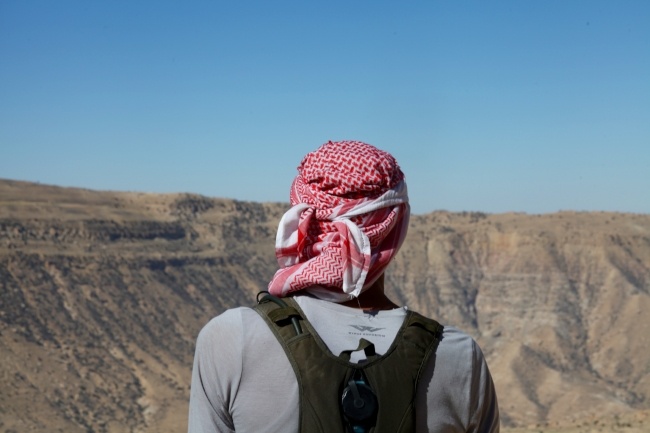 Jordan is a lively, colorful country often characterized by the chaotic bustle of Ammani streets, the spirited banter of close friends and family, and the night-long wedding celebrations that are an integral part of Jordanian life.
Note: If you're interested in hearing more about the history, culture, and adventure that the country of Jordan has to offer, we invite you to subscribe to our blog — My Jordan Journal — to learn more!
At the same time, however, there are many places in Jordan that are conducive to creativity and peace. Read on for information on some of the natural wonders available for exploration in Jordan.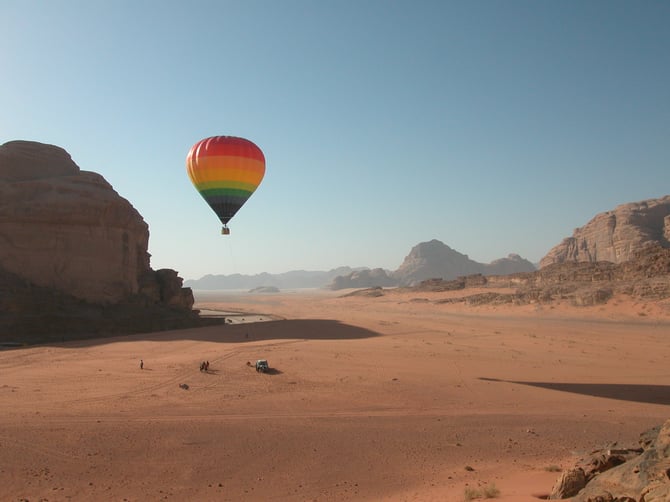 Experience the breathtaking beauty of Wadi Rum.
Although Jordan is known for its many incredible natural wonders, Wadi Rum is one of the most famous. In Wadi Rum, travelers can take a 4x4 tour of the desert at sunset, one of the most thrilling experiences that Jordan has to offer. You can watch miles of red sand disappear behind you, the wind blowing in your face as the Jeep races across the desert at a breathtaking speed. The driver will stop near sand dunes and rocky cliffs, so that you can climb to the top for the perfect view of the sunset. The brilliant colors of the sunset cast shadows across the desert plains, conjuring up a surreal vista that seems as if it belongs in another world.
After the sunset, your best bet is to stay a night in one of the many Bedouin campsites that welcome visitors. Roughing it is not required — these tents are spacious and include beds and running water. You can expect an amazing meal, a bonfire, and music.
The absence of city lights in the vast expanse of desert creates some of the most incredible stargazing in the world. The silence and tranquility of Wadi Rum at night is unbelievable.
Is there any natural phenomenon more soothing and peaceful than waterfalls?
You can do more than simply gaze at the beautiful waterfalls in Wadi Mujib, a spectacular river canyon situated next to the Dead Sea. Travelers can hike and splash through the shallow river, climbing up rocks with the aid of strategically-placed ropes and helpful guides.
It is the perfect place to enjoy a hot Jordanian summer — sliding down the smooth stone sides of magnificent waterfalls into clear natural pools underneath craggy cliffs, floating in the cool water while gazing up into a sky that is never any color but a cloudless blue.

Aqaba is an idyllic and peaceful beach town.
For a more traditional way to relax, go to Aqaba, Jordan's southernmost city on the Red Sea. Palm trees and golden sand stand in striking contrast to the tranquil blue of the water. Aqaba boasts an impressive array of beachside resorts.
Travelers can relax on a private beach by the water or swim in the hotel pool nearby and sip a freshly-made cocktail. The scuba diving in Aqaba is amazing, and windsurfing is also a popular activity.
Whatever you decide to do while in Aqaba, your time there is sure to rejuvenate you for the more strenuous sightseeing activities that Jordan has to offer.
Jordan's holy sites are awe-inspiring.
Jordan possesses a vast array of holy sites. Mount Nebo, located near the Dead Sea, holds a particular significance for many people, as this was the place where Moses is said to have seen the Promised Land.
In Amman, travelers can visit many mosques. The ruins of one of the most ancient mosques in Jordan can be found at the Citadel in Amman. Even for the those who are not religious, the historical significance of these ancient places is sure to evoke a sense of wonder.
Although Amman is a lively city, it is still easy to find peaceful places to relax.
Even in busy Amman, it is possible for travelers to find oases of peace amid the hustle and bustle of the city. Small, welcoming cafes are located on nearly every corner. You can order fresh mint tea, Turkish coffee, or some argileh (hookah), and people-watch for hours. Cafe owners embody the spirit of Jordanian hospitality and will make you feel at home however long you stay.
Yoga and meditation classes are two other experiences that you can seek out in Jordan as well. Especially in recent years, it is easy to find a yoga studio in Amman to rejuvenate if you desire a more low-key alternative to souvenir shopping and sightseeing.
The Jordanian way of life is relaxed, welcoming, and peaceful.
Jordanians are friendly and welcoming, and the pace of life in Jordan is more relaxed than it is in many other countries. Jordanian culture places a strong emphasis on family, and family events and religious holidays often call for delicious, home-cooked meals and lengthy celebrations. Jordanians are quick to invite visitors to their homes and love to include them in family activities.
It is clear that although the sheer beauty of Jordan's natural wonders helps to create an atmosphere of tranquility, the welcoming aspects of Jordanian culture will also help to make busy travelers at peace.
---
The hospitality in Jordan creates an opportunity for you to experience the culture as if you are a resident yourself. We invite you to download this free resource — A Guide to History and Culture in Jordan — to learn all the best places to experience the rich history and hospitable culture of Jordan!