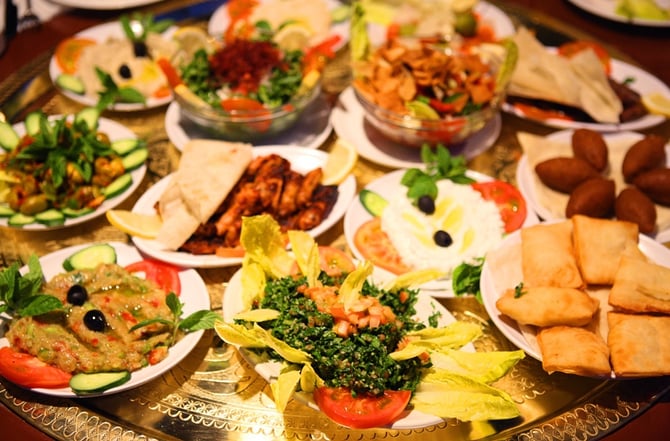 Jordan boasts a variety of amazing dishes, some of which are already familiar to foreigners. Jordanian cuisine, however, goes far beyond the ubiquitous hummus and falafel.
Note: If you're interested in hearing more about the history, culture, and adventure that the country of Jordan has to offer, we invite you to subscribe to our blog — My Jordan Journal — to learn more!
Read on for recommendations on Jordan's best restaurants, traditional dishes, and local wines!
Traditional Jordanian cuisine
One of the best places in Amman to sample traditional Jordanian food is Hashem Restaurant, a famous eatery located downtown. This bustling restaurant has no menus — servers simply come by your table with plates of fresh bread, bowls of hummus and mouttabal (spicy eggplant dip), ful medames (a fava bean dish), and of course, plates of the most amazing falafel around.
You'll also be served small cups of hot, sweet tea with fresh mint. This restaurant is perfect for a quick lunch or a casual dinner with friends.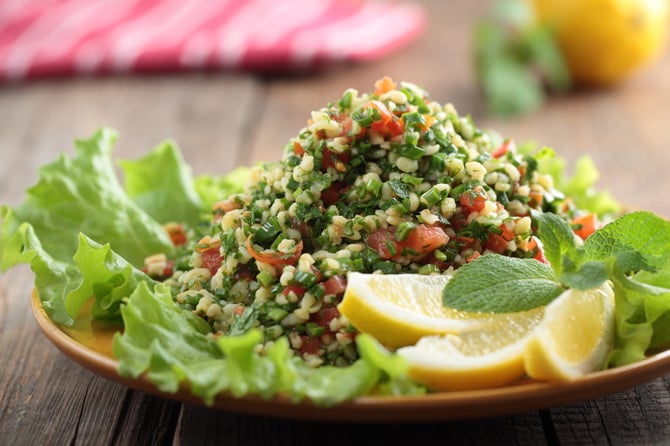 Tawaheen al-Hawa, a spacious restaurant that has a large courtyard with fountains, is a more formal option for traditional Jordanian food. Your meal will begin with dips and salads, such as fattoush (vegetable salad with toasted pita), labneh (garlicky yogurt dip), hummus, and tabbouleh (lemon herb salad), as well as hot appetizers that include kibbeh (meat croquettes), and fried cheese pastries. The main course consists of a grilled chicken, vegetable, and meat kebabs. Tawaheen al-Hawa also serves mansaf, a rich Jordanian dish made of lamb and rice.
The best brunch in Jordan
For a superb brunch in a fun atmosphere, visit Books-at-Cafe on Omar Ibn Al-Khatteb Street in Amman. The first floor is a bookstore, boasting a wide variety of titles in English. Up a flight of stairs is the cafe and bar area. Enjoy delectable french toast or an omelet inside the cafe or on the open-air balcony.
This cafe also serves some incredible za'atar manakish (flatbread with a thyme spice mixture). Za'atar is a Jordanian herb blend, mostly made out of thyme, that can perhaps best be described as Middle Eastern pesto. Mixed with olive oil, it has an incredible flavor and is usually used as a flatbread or pizza topping.
The cafe serves many local beers and wines as well, and it's worth coming back for the happy hour specials.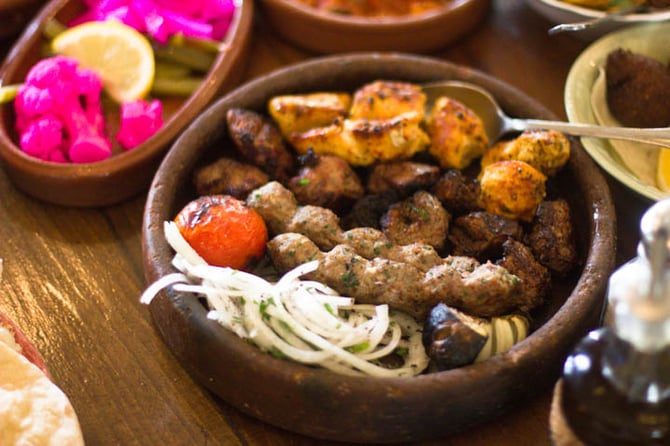 Yemeni cuisine: The most delicious food you've never tried
For a different and authentic experience, venture to Jubeiha, a less touristy neighborhood in Amman where the University of Jordan is located. Sana'a Restaurant attracts mainly locals with its amazing Yemeni food. Foreigners may attract curious looks but receive friendly service nonetheless. Dishes are served in skillets in generous, shareable portions, and everything comes with pieces of fluffy, chewy, freshly-made flatbread, each of which is larger than a steering wheel. One of the most delicious dishes is the alayat bandura — a fresh, garlicky tomato stew that is simple but flavorful.
Wine in Jordan
Travellers in Jordan may be pleasantly surprised to find some exceptional local wines available. Although perhaps the most well-known wines are from Mount Nebo, you should be sure to check out the award-winning Zumot Winery as well. Zumot makes wines under the name Saint George, including an excellent Pinot Noir and a rich Shiraz. The Machareus, a light, crisp aromatic white wine, is also enjoyable. Their store in Amman is open for tastings as well.
Whatever you do, be sure not to leave Jordan without tasting all the incredible dishes and local wines it has to offer!
---
The cuisine in Jordan is unique and delicious. We invite you to download A Guide to Food and Wine in Jordan to learn more about the food that will be available to you on your trip to Jordan!