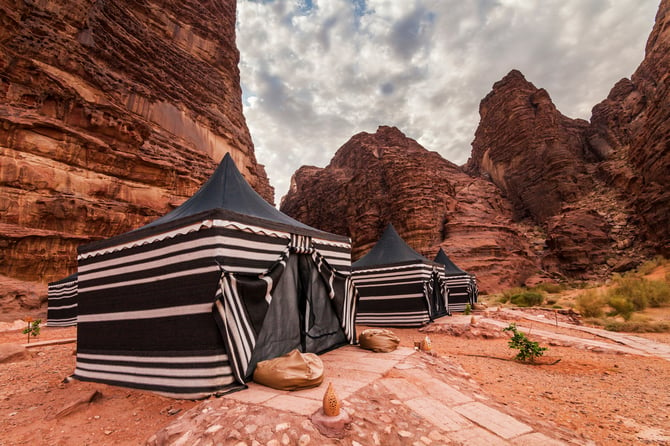 When you see Jordan's majestic natural beauty and rich history on the big screen in films like "Lawrence of Arabia" and "Indiana Jones and the Last Crusade", it's easy to imagine yourself traveling across the world and exploring the unknown.
But you're no daredevil archaeologist or desert military commander. You watch epics; you don't live them.
Your thirst for thrills has been held in check by fear – whether it's an aversion to exotic places or a feeling in your stomach when you think about tall heights. Whatever is holding you back, Jordan is a place to find new courage. You may not be ready for deepwater diving or BASE jumping when you arrive, but you could be willing before you leave. You'll be surprised at how Jordan can inspire and change a traveler.
Jordan offers ways to expand your comfort zone without sacrificing comfort. The wealth of quality accommodations allows you to start small and grow bolder as you discover your inner adventure film star — here are just a few points you can stop at on your next excursion.
Visit the Valley of the Moon
Traveling in the red landscape and azure skies of Wadi Rum feels like a trip to space. Only 40 minutes from the coastal city of Aqaba, the protected desert wilderness has long been nicknamed "the valley of the moon" and recently stood in for the red planet in the movie "The Martian." Its 278 square miles of red desert is home to exotic Bedouins tribes but open to travelers of all backgrounds. Join the Bedouins on a hiking journey through the deep valleys and high peaks of Wadi Rum.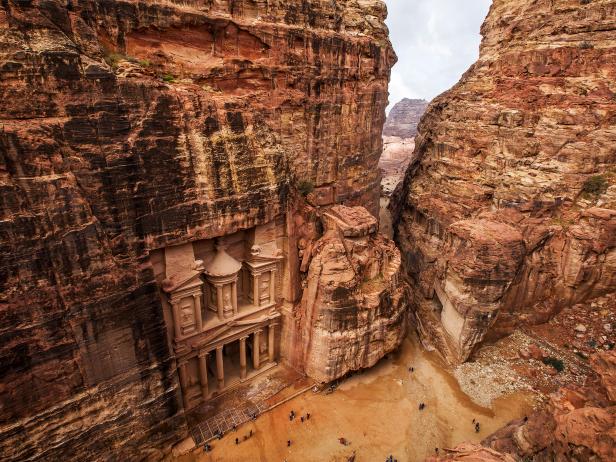 Hike through the Rose City
An ancient city built into the rose-colored rock of a basin on the slope of Jebel al-Madhbah, Petra has an immense amount of history and beauty. Petra, whose nickname "the Rose City" comes from the color of the rock, offers great hiking for all levels of difficulty and length. Hiking can be found in many locations in Jordan. Just like Petra, Wadi al-Mujib, Wadi al-Hidan and Wadi al-Hasa have breathtaking views and amazing hiking trails for everyone to enjoy.
Skydiving in Space
Wadi Rum's natural rock arches and lofty rock formations are stunning from the ground. Seeing them from 12,500 feet overhead, with orange earth hurtling towards you at terminal velocity is a site few will experience and no one could forget. The desert's terrain and weather provide ideal conditions for skydiving. Adventurer travelers have called it one of the best skydiving locations on earth — with the slight caveat that the majestic desert expanse feels more like skydiving in space than any adventure this planet can offer.
Float in Friendly Skies
Not everyone arrives in Jordan ready to skydive. Thankfully, skydiving isn't the only way to see Wadi Rum from above. If you're ready to test the skies but cautious about freefalling, you can grow your comfort with heights other ways. Since 2012, the Royal Aero Sports Club of Jordan has tempted travelers with skydiving, balloon rides, micro-light flights and ultra-light flights in Wadi Rum and other parts of the country. And you don't need a plane to plunge — Wadi Rum's towering rock faces make for perfect BASE jumping.
Sleep Under the Stars
Love the sky, but not the adrenaline of flying? A night lying next to the warmth of a fire, gazing up at the star-filled sky, you may feel like you are close enough to catch a shooting star. The peace and quiet of a night spent camping in Wadi Rum will make you feel free and easy. Take a night to sleep under the stars at one of the various camping locations in Wadi Rum.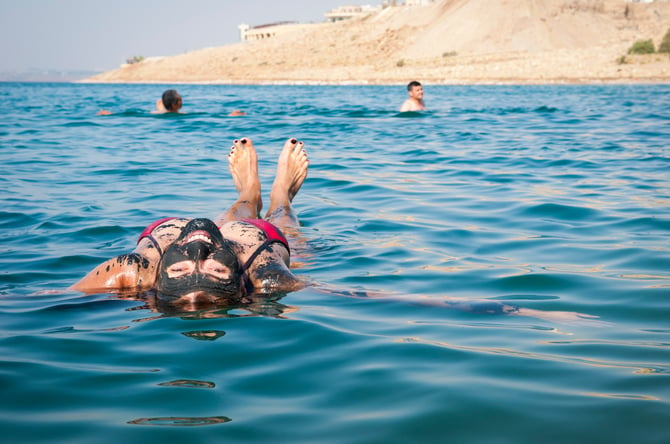 Soak in the Sites and the Salt
If you're not ready to take to the air, get your heart racing and adrenaline pumping with a dive into the sea. Jordan borders two of the world's most treasured bodies of water: the Dead Sea and the Red Sea. Everyone should experience the unique tranquility of floating in the salt waters of the Dead Sea.
The Treasures of the Red Sea
But the calm waters of the Dead Sea may inspire you for more ambitious aquatic adventure. Don't be afraid to take a risk. Great rewards await.
Jordan is ready for people eager to feel their heart race as they explore new depths. The Red Sea is home to some of the most vivid colors on earth. The sea life and reefs in Red Sea areas like the Straits of Tiran are spectacular sites, with marauding jacks, barracuda and sharks swimming along the reef edges while giant moray eels slip through the coral.
A Long Walk in a Gorgeous Desert
Opportunities to expand your horizons await on land as well. Have you dreamed of desert travels? Hikers revere the Jordan Trail's rugged and beautiful expanses of dry riverbeds and cliffs. Named by Vogue magazine as one of the hottest travel destinations of 2017, the recently completed 370-plus-mile Jordan Trail connects the country's diverse landscapes, from the Mediterranean-feeling villages of the north to the dramatic Jordan Rift Valley and the Red Sea.
You can experience all of these thrills without sacrificing comfort or luxury in your accommodations. High-quality hotels and restaurants throughout the country offer chances for travelers to recharge between adventures. It's easy to see why Jordan is one of the best places in the world to reach new heights and discover yourself.
Start planning your once in a lifetime adventure today. You'll return home a different person, richer for the risks and challenges you faced during your trip.
Want to learn more about adventure travel in Jordan? Download our "Guide to Adventure Travel in Jordan" by clicking the link below!