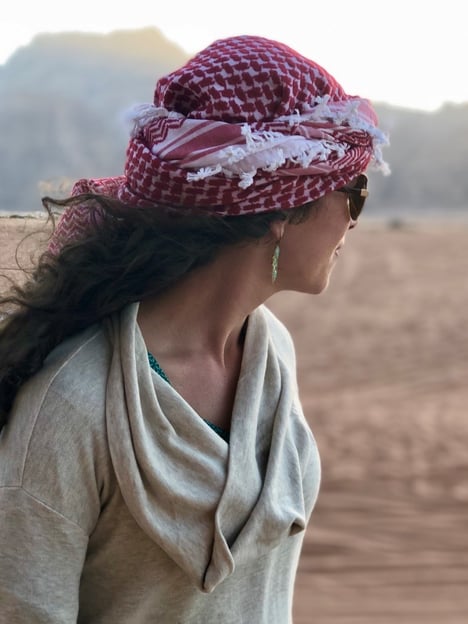 When I found out I was traveling to Jordan, I was immediately filled with excitement. I couldn't wait to experience the history, food, culture, and landscape — from incredible mountains to gorgeous coastlines, from bustling cities to dry deserts.
My excitement and dreaming quickly faded into nervous uncertainty. How could I possibly pack for a jeep ride through the pink sands of Wadi Rum, a time of prayer and reflection at the site of the baptism of Jesus, a night out in Amman, and everything in between? It wasn't only terrain I was worried about. The culture I was so excited to be introduced to was also daunting. Jordan, while more liberal than most Middle Eastern countries, is still a Muslim country.
What did this mean for me, as a woman traveling to Jordan?
Before I could become overwhelmed with these questions, I sought comfort from the most obvious source — research! Just kidding, I went to my mom, a veteran of Middle Eastern travel. She, not so gently, told me what I needed to hear. "Michelle, don't overthink it. You know how to travel!" Yes, this was my first trip to the Middle East, but it certainly wasn't my first time traveling. I've packed my suitcase many times, always attempting to adapt to the culture and people I am visiting, while still maintaining my own style and comfort.
Many of the same rules apply — light layers, breathable clothing, and versatile pieces that can be mixed and matched. There was only one big difference I needed to keep in mind while packing: in order to respect the local culture and for my own comfort, I needed to cover my shoulders, legs, and chest.
With the help of my comforting, compassionate internet research, and my very helpful mama (oops, did I get those two confused?), I came up with an almost perfect packing list.
So, what was in my suitcase?
Clothes
:
As always, comfort and versatility are key when packing for a trip. I wanted to make sure I packed plenty of light layers, layers that I could mix and match. Layers were key for both climate and modesty. For this trip, especially, I wanted layers made of breathable fabric. Even though I was sweating in the sunshine and traipsing through the desert, I didn't want to smell like it. Though the women we encountered were diverse in dress, and all very stylish, one style I saw over and over, all across Jordan was a tunic with skinny pants or leggings. Here's what I packed:
Breezy Tops
Button-up Tunics

Maxi Dresses

Light Sweater

Loose Fitting Pants

Black Skinnies or Leggings


Swimsuit (floating in the Dead Sea is a MUST!)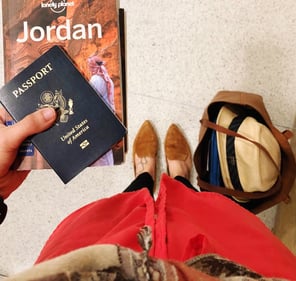 Shoes
:
I did a LOT of walking in Jordan. I explored the Roman ruins at Jerash, wandered through the rose Siq of Petra, walked the path to Mukawir, and climbed all over the Amman Citadel. Because of all the walking, and the cobblestones, comfy shoes are a must! But, unless you are planning on doing intense hiking (I'm looking at you, Jordan Trail…next time!), I wouldn't consider hiking shoes a must.
Most days, I wore my leather Greek sandals, but had closed toed booties and flats for nicer evenings out.
My shoe list was simple:
Comfy Sandals
Booties
Travel Flats
Sneakers/Hiking Shoes (optional)

Accessories
:
Hat and sunglasses

—

even in October, the sun was hot and fierce. A hat is a great way to protect your face from getting too much sun and is a great way to hide those bad hair days. In addition to the sun beating down, you will encounter blowing dust. Keep covered!
Jacket

—

Back to those layers…even if you're boiling during the day, it gets quite chilly at night.
Scarves

—

I always have scarves when I travel. I use my scarf to add style or color to my outfit but also as a blanket or pillow on travel days. Additionally, scarves are great for modesty, covering shoulders and head in mosques, not to mention the practicality of using a scarf to keep windswept hair and dust out of my face on a jeep ride through Wadi Rum.
Crossbody handbag or backpack

—

I like to have my hands and arms free when I travel, so a bag I can sling over my shoulders or across my chest is key. In Jordan, I never once felt unsafe or in danger of being pickpocketed.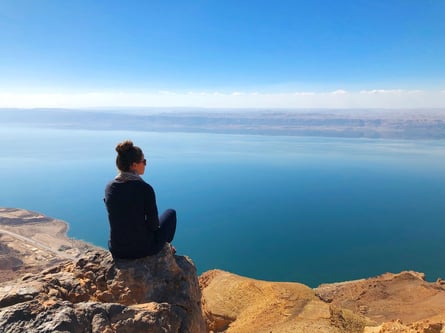 Other Essentials
:
Sunscreen and chapstick

—

I said it before, I'll say it again. The sun was hot and fierce. You'll be outside, you'll be walking, cover up!
Journal

—

I took photos up and down Jordan, but nothing can put me back into the experience like reading my own reactions and feelings while I travel. Even the simplest notes let me relive my time in such an incredible place.
Electronic Converter

—

If you want to charge your electronics, don't forget your converter. I only brought a European converter, but while in Jordan, I saw both European and British outlets. It may suit you to bring both.
Pepto-Bismol and Probiotics

—

No one likes to talk about it and its not pretty; a fellow traveler delicately referred to it as traveler's gut. Whatever you want to call it, let's be real, unfamiliar food can do funky things to your tummy. Though all of the food was delicious and impeccably prepared, I had these on hand at all times because you just never know.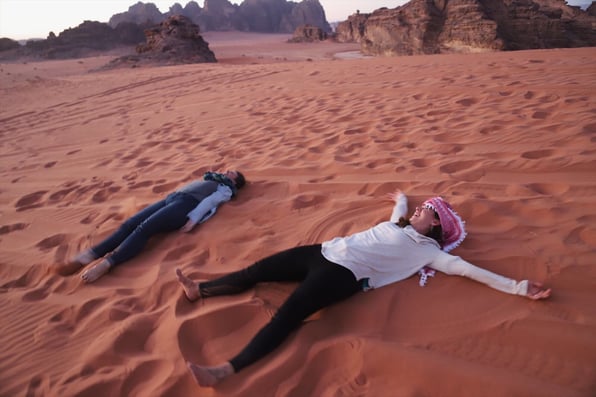 The takeaway - don't overthink it! Respect the local culture and dress modestly, but dress comfortably, to fit your trip style and the season during which you're traveling.
About Michelle Scaperlanda McWay
I have a love of food, traveling, style, and family. My husband, Conor, and I like to take every opportunity to indulge in all of these. In August 2014, we flew on a one-way ticket to Europe to begin a year of adventures, amazing food, and discovering what our next step in life will be. Since embarking on our year without a plan, I've learned that our life itself is the adventure. Though we are back in the States and our year of planless adventuring is now over, we are taking life one step at a time, trusting in God's plan, and enjoying the journey.
Read more of Michelle's work on her blog Wine, Wedges, and Wanderlust.
---
Are you interested in learning more about how to travel to Jordan, check out our Getting to Jordan page! There you will find information about Visas, land, air and sea transportation, and the Jordan Pass.