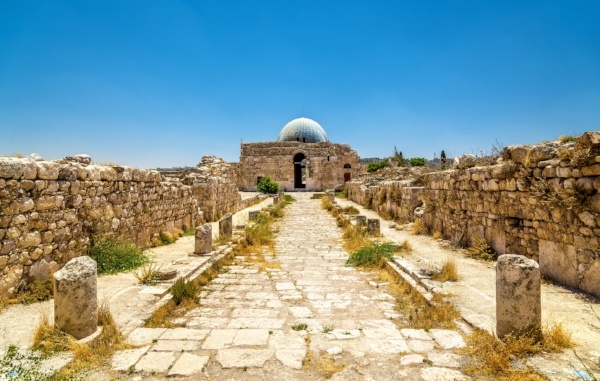 In my desk drawer, I keep an article by Daniel Novotny, a dear departed graduate school professor of mine. Of the European practice of journeying to the Holy Land in the Middle Ages he writes:
"As the pilgrims came on foot across France and Italy, they traveled slowly, taking in the wonders of the lands they passed through. When people asked where they were going, they replied, "A la Sainte Terre," to the Holy Land. From this we have the word "saunter," which refers to a way of moving through life that is neither rambling nor reckless."
Every so often, I return to Novotny's article to remind myself of the importance of sauntering. I read it again before a recent trip to Jordan to prepare myself for my own pilgrimage "A la Sainte Terre."
From Amman in the North to the Red Sea in the South
I spent nine days in Jordan with a wonderful group of religion writers, bloggers, and editors. We covered a lot of ground together from Amman and the Sea of Galilee in the north to Aqaba and the Red Sea in the south.
We stood in the Jordan River, floated in the Dead Sea, and walked the Siq — a narrow, winding road that leads to the heart of the ancient Nabataean city of Petra — and experienced the otherworldly landscape of Wadi Rum, which T.E. Lawrence accurately described as "vast, echoing and godlike."
We explored Neolithic caves and Roman, Byzantine, and Umayyad ruins on Citadel Hill, one of the highest points in Amman and a place inhabited continuously by human beings since roughly 15,000 B.C.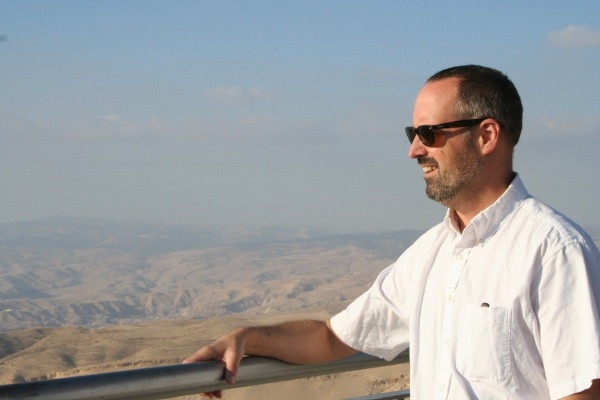 We stood atop Mount Nebo where Moses surveyed the Promised Land and looked out into the hill country of Gadara near the Sea of Galilee where Jesus healed a man whose unclean spirits were legion.
We climbed Mukawir, the lonely mountaintop stronghold of Herod Antipas overlooking the Dead Sea and explored the caves below in one of which John the Baptist was imprisoned and beheaded.
Experiencing the Warmth of the Jordanian People
Through it all, we enjoyed the warmth and welcome of the Jordanian people, the expertise of a knowledgeable guide, and outstanding food, Arabic coffee, and accommodations.
Several weeks after returning home, I shared with friends that I was experiencing a kind of reverse homesickness for Jordan. My time there was that affecting.
I attribute this feeling to the hospitality of the Jordanian people and the opportunity to explore places I had only read about in the Bible and books like T.E. Lawrence's Seven Pillars of Wisdom.
Strengthening and Gaining Insight Into My Faith in Jordan
In Wadi Rum, I realized God's promise that the descendants of Abraham would be as numerous as the sand and stars was not an abstract proposition to the ancient Israelites, but rather an abundant, tangible expression of God's sovereign presence.
Looking out into the vast expanse of desert and sandstone mountains on the way to Petra, I gained fresh insight into the words of the Psalmist who wrote, "O God, you are my God, earnestly I seek you; my soul thirsts for you; my flesh faints for you, as in a dry and weary land where there is no water." (Psalm 63:1)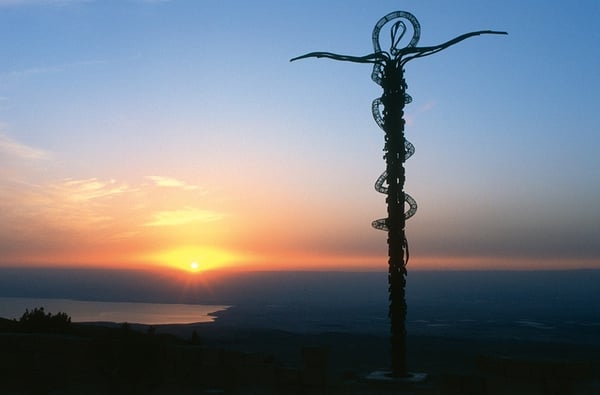 Watching the sunset from the summit of Mount Nebo, I wondered whether Moses was at peace looking into the Promised Land knowing his people would enter it even though he would not.
To saunter in such places, to take in the wonder of them, is to open oneself to the experience of those who have come before us, to understand in some small measure their struggle and striving, their sorrows and joys. Doing so informs and shapes our own sense of place and purpose so that we might move more fully through life in a way that is neither rambling nor reckless.
---
If you're interested in learning more about the holy sites in Jordan and if you want to get the most out of your trip, we hope you'll download our Guide to Religion and Faith in Jordan. This guide will cover a variety of holy sites, their religious significance, and how to best access them!
About Curtis Ramsey-Lucas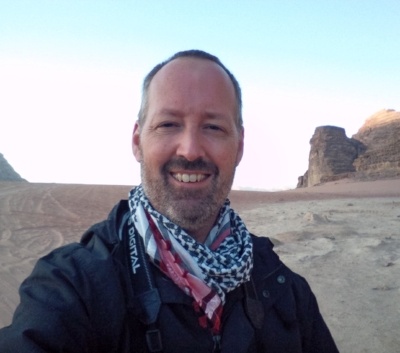 As editor of American Baptist Home Mission Societies' (ABHMS) The Christian Citizen, Curtis Ramsey-Lucas enjoys working with diverse writers to publish stories of justice, mercy, and faith. His own writing has appeared in The Washington Post, Religion News Service, The Huffington Post, Baptist News Global, Report from the Capital, Common Dreams, and Baptist Review and Expositor.