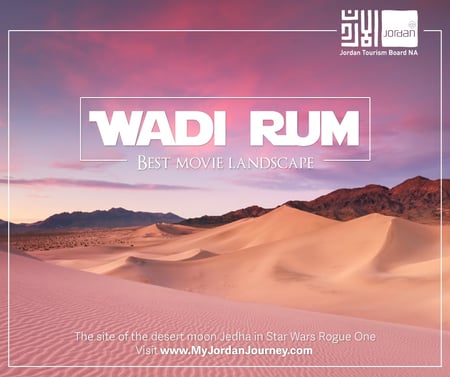 Follow the hashtag #TakingJordanbyStorm and keep an eye our for some special guests traveling through Jordan.
Jordan's Wadi Rum takes a central role in Star Wars Rogue One as a small desert moon called Jedha, a key spiritual and religious center for the Jedi. Rogue One's team spent five days shooting in the Wadi Rum desert area and the adjacent Al Disa desert, which continues west from Wadi Rum and now you can even go and visit where the filming took place.
Wadi Rum has recently been taking center stage in Prometheus and as Mars in the The Martian. For more movie filmed in Wadi Rum check out out post Take a Walk on Mars.
Wadi Rum, the UNESCO World Heritage site, is a great place to visit and is usually on the top of everyones favorite place in Jordan as its full of fun activities for everyone and many camping or "glamping" options. Check out what other say on the trip advisor page.