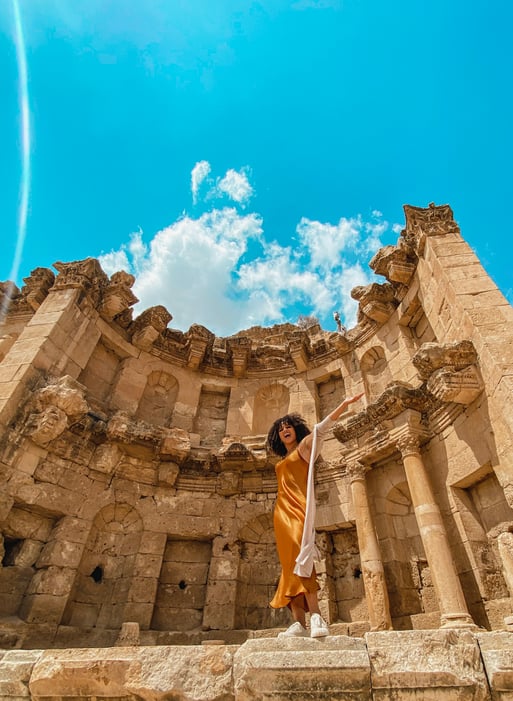 When I travel, I seek destinations where I can go on excursions, meet new people, be immersed in the culture, and feel safe as a Black woman traveling solo. The Middle East has always been one of my favorite regions to explore and Jordan has always been on my bucket list because I'd heard not only of its world wonders but the world-class hospitality of the people who live there.
Not only did I have more once-in-a-lifetime experiences on this trip than I can even count, but I felt extremely safe the entire time. Again: as a Black, solo female traveler, that's an incredibly important and sometimes difficult thing to find!

Jordan is a melting pot
Jordan is an incredibly diverse country which has welcomed refugees, immigrants, and travelers over centuries.


You'll find small racial groups with Palestinian, Iranian, Egyptian, East Asian, and yes, African roots throughout Jordan which also means a special coexistence of the many religious groups. It is not unusual to see a church and mosque share a block, or even a building!

With diversity as a tenant of the country, it is surprisingly difficult to stick out as a person of color (at least, by your skin! The way you dress may still give you away). Many times people mistook me for local when I wore local clothing—which goes to show how much of a melting pot this country is!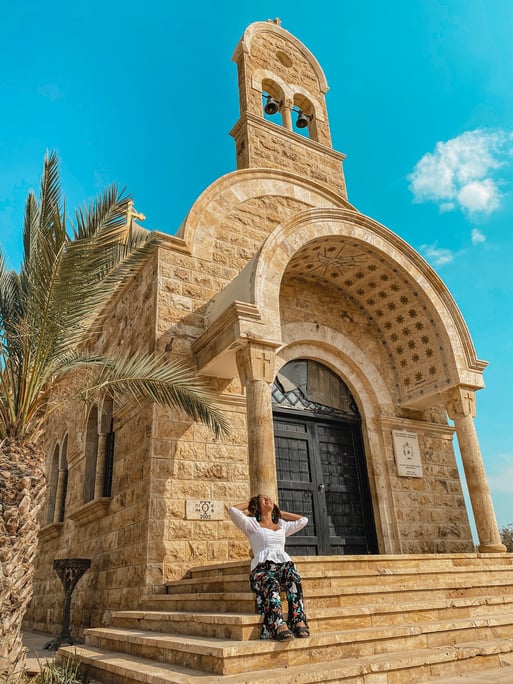 Black Hip Hop impact in Amman (seriously!)
Another can't-miss experience to try during your first few days in Amman is the Underground Amman tour to explore the hidden art world of the city. This is where I learned the most about 90's Black American hip-hop's influence in Jordan…

Yup, you read that right. When I learned that Jordan's underground hip-hop music, dance, and street art scene were all influenced by the music of Biggy Smalls, Tupac, Missy Elliott, and other underground Black artists, I was honestly in awe.

It goes to show the reach of Black creativity and how it introduced ideas of self-expression and creativity as far as the Middle East! As a Black American traveler, it somehow made me feel welcome to see signs of my culture and my country.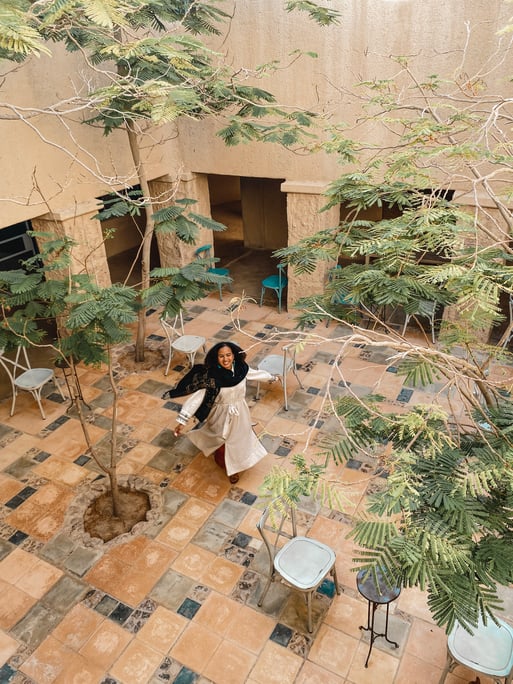 The amazing women of Jordan
The capital city of Amman is also where I learned to cook traditional Jordanian dishes with the help of Sherin Mesies Haddad, the matriarch of the all-women's cooking and dining hall, Beit Sitti. These lovely women create an environment of care and creativity in their cooking, and it was so fun learning to flip maghlouba and cook mansaf with them. And, of course, the food was delicious!

Jordan was full of inspiring and skillful women. I think of the female volunteers working at Madaba's Archaeological Site preserving Jordan's textile art and history, and the female artists of Madaba's Handicraft Center Mosaic Workshop who are a part of a program that teaches artistic skills to help support for families.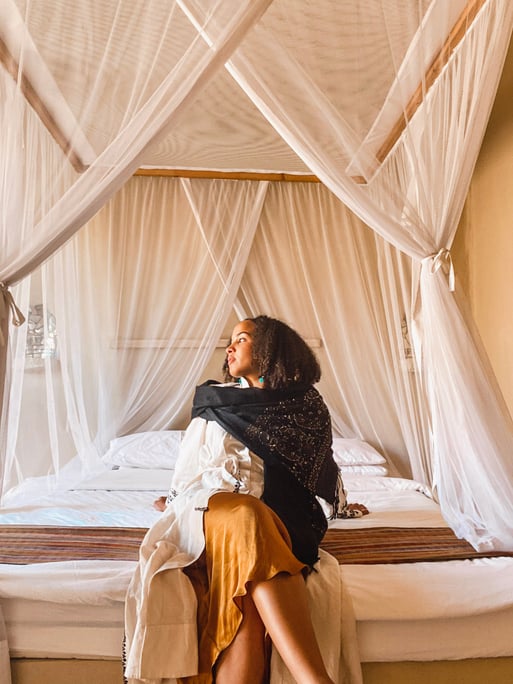 Should you visit Jordan solo?
I never want to say that any country is 100% safe because that is not true no matter where you go in the world. But I can say that for 3 weeks I felt extremely confident and comfortable in Jordan as a Black, female traveler.

There are some misconceptions that Jordan is dangerous, mainly because of its location in the Middle East. But if you believe every misconception you hear, you'll likely never travel anywhere!

When I left Jordan, I had over twenty new phone numbers of travel guides, hosts, and new friends I picked up in less than a month. Honestly, I felt like people welcomed me like family there. If you're a solo female traveler (especially if you're a Black woman looking for safe countries to visit alone) I highly recommend traveling to Jordan.
This country is easily one of my all-time favorites, and I can't wait to go back for another adventure.
Follow Gabby on Instagram @packslight