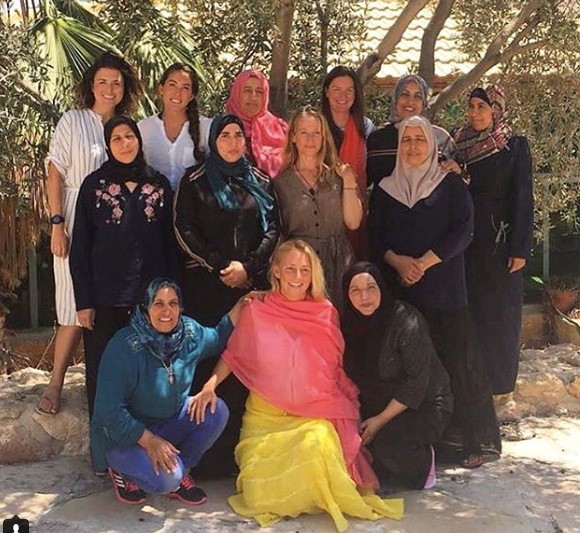 The Jordan Tourism Board North America is proud to announce its partnership and work with The TreadRight Foundation, established by The Travel Corporation, a not-for-profit working to ensure the environment and communities they visit remain vibrant for generations to come.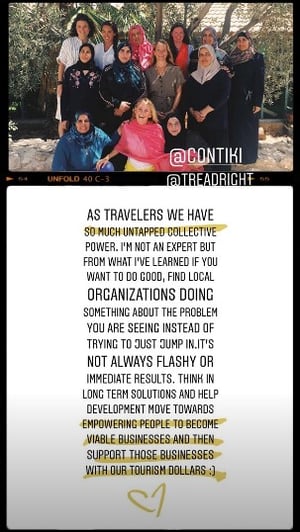 Treadright ambassador Celine Cousteau and travel guests, including social media influencers Alison Teal, Ellie, Chelsea Yamase and Rob Strok spent an inspiring few days in Jordan visiting beautiful destinations such as Petra, Wadi Rum, and Jerash. Celine uses Treadright as a tool to focus on our world's wildlife and heritage initiatives, highlighting the importance of stopping wildlife crime and empowering local artisans.
In August 2018, they wrapped up their trip in Jordan with their chosen mission of helping grow and maintain the Iraq Al-Amir Women's Cooperative just outside of Amman, which aims to make women in the area financially independent and to raise their standards of living, now and for generations to come.
Check out some of the highlights of their trip here!
Iraq Al-Amir Women's Cooperative
Iraq Al-Amir was established by Noor Al-Hussein Foundation (NHF) in 1993, in the ottoman part of Iraq Al-Amir. Rich in historical sites dating back to the hellenistic era, the region is also famous for its many springs which turned the valley into a green garden that has become an important tourist attraction.

Iraq Al-Amir Women Cooperative Society has provided training projects for more than 150) women from all villages of Wadi Seer on various handicrafts and it is managed and run by women and ladies who are members of the Society which created many job opportunities for women of all ages.

The Handicrafts Village which is considered a major part of the Society, was established in 2001 for the purpose of conserving the region's environment and preserving its unique architectural heritage. It also helps developing crafty skills to the local women and girls, and gives them a better chance to finding a job and contributing to their society.
Visit and support the Iraq Al-Amir Women's Cooperative by booking through one of The Travel Corporation brands: Trafalgar, Contiki, Insight Vacations & Luxury Gold Vacation.
---
Want to know more about Iraq Al-Amir Women's Cooperative or other social enterprises you can visit and support on your next trip to Jordan? Check out our Meaningful Travel Map of Jordan!