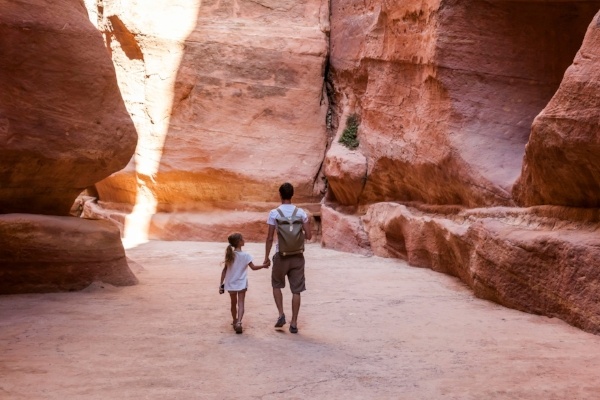 If you and your family aspire to travel somewhere with stunning landscapes, interactive history, and archeological sites, Jordan is the perfect place for guests of all ages. Check out a few of our top recommendations for visiting Jordan with your children.
1. Exploring the Citadel. Children can get restless walking around a museum full of things they can't touch. Cue the Citadel—an ancient hill in the middle of downtown Amman that your whole family can interact with in every way. Climb around the pillars and stairs at the Temple of Hercules and gape at the demigod's massive fingers, the only remnant of a statue that supposedly stood over 40 feet high in its day. And don't miss the ruins of a 6th-century Byzantine church and an 8th-century structure called the Umayyad Palace, accompanied by a huge water cistern dug into the ground nearby.

2. Wander the Roman ruins of Jerash. Another place to let history come alive for your family is in Jerash, a city from the height of Rome's prosperity in the Middle East. Who needs to visit Rome when you can see perfectly preserved temples and plazas, baths and colonnades, fountains and city gates? Located about 30 miles north of Amman, you can drive yourself or book a guided tour with a qualified tour operator.

3. Float in the Dead Sea. Even kids who struggle to stay above water during their swim lessons back home will be pleased to experience the surprising buoyancy of this famous body of water. In fact, it's nearly impossible to do anything but float! Wearing water shoes or Teva-like sandals is a must to protect your feet from the rocks and sharp salt deposits on the bottom of the lakebed. Pro tip: both Dad and Mom might want to avoid shaving for a day or two before visiting the Dead Sea because the high salt levels can sting any sensitive skin or cuts. But slathering your body in the lake's mineral-rich mud is a DIY classic spa treatment, so your skin will still end up smoother than it's ever been.
Interested in more thrilling adventures to go on with older kids? Check out our Experience Adventure page here!

4. Snorkel in Aqaba. However, if the Dead Sea doesn't float your boat, the Red Sea beaches of Aqaba, Jordan's port city are another excellent water option. The coral has largely avoided deterioration because Jordan reef is far less overrun by divers than nearby Egypt or Israel and much of the coastline is protected as a marine park. Check out more information about snorkel tours or companies to rent gear from here.

5. Discover the Lost City of Petra. The "Rose City" is one of Jordan's top attractions for good reason. The intricate carvings and towering pillars of this ancient city entirely sculpted of stone will awaken wonder and imagination in children and parents alike. Though it involves a fair amount of walking, there are plenty of teahouses and booths selling snacks if you need to take a break. Additionally, there are camels and donkeys for hire if tired legs need a break but your family wants to keep exploring. You may want to spread this adventure out between two or three days, so as to fit everything in without exhausting the kids. And note: since strollers will be of little use on the uneven terrain, families with very little ones will be better off with a baby carrier.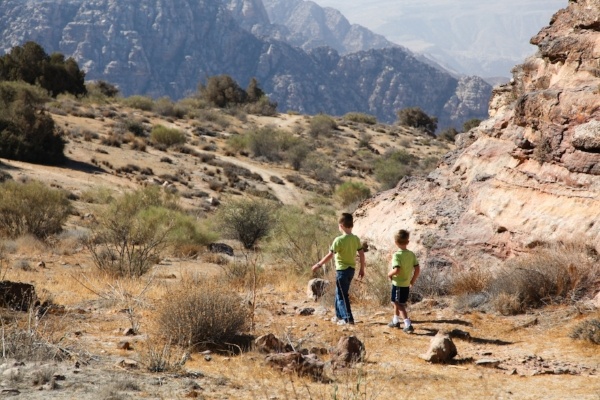 6. Drive the King's Highway. If you'll be driving yourself from Amman to Petra, there are two routes you can take. The more direct Desert Highway route takes a little over three hours and is the obvious choice if you're in a rush. But you can also take the King's Highway, a scenic mountain route sprinkled with castles from the Crusades, small towns like Madaba "the City of Mosaics," and biblical sites such as Mt. Nebo with the Memorial Church of Moses. This itinerary will add several hours to your journey, but it will spice up the road trip considerably.

7. Jeep around Wadi Rum. This valley's rock formations and red-pink sand might be the closest you'll ever come to seeing a Mars-scape. The sweeping views and awe-inspiring sunsets are all the better for being less crowded—a serene departure from other Jordan tourist attractions. There are hiking tours if your family is the rugged type, but with younger children, you might opt for a Jeep tour. This will allow you to see a variety of sights without over-tiring the littles.
8. Spend a night camping in a Bedouin tent. And if you're going to be out in the desert anyway, you may as well tack on a little glamping and enjoy an evening of Bedouin culture. The Bedouin people have roamed this desert valley for thousands of years and are eager to share their food and traditions with visitors. Camping in style might be the perfect way to top off your Jordan adventure.

So many of the sights that Jordan has to offer are enjoyable to parents as well as children, and each place has options for more or less physical activity. You can plan out your ideal itinerary ahead of time, but if a particular need arises for your family once you arrive, local guides have plenty of recommendations. You won't regret making Jordan your family vacation spot this year.
---
Not sure where to begin your journey? Check out our custom 12-day family adventure travel itinerary!