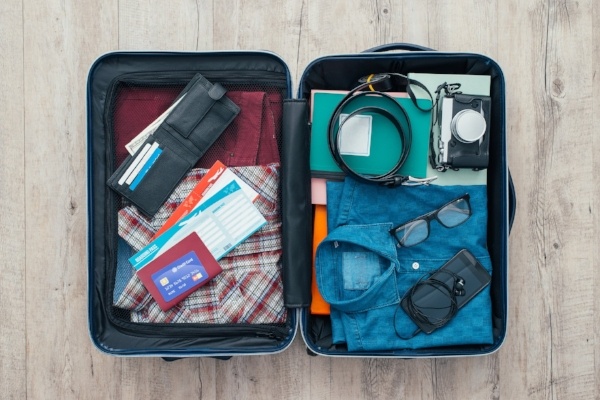 Jordan is a country of many options: city and desert sightseeing, hot and cold seasons, holy sites and ancient ruins, and flavor-packed cuisine for both carnivores and vegetarians. How is a tourist to pack for a place with so much variety? Below you'll find our starter list for items you won't want to forget at home.
1. Breathable, modest clothing. Jordanians are fashionable. You'll see maxi skirts, pants, or leggings in favor of shorts and t-shirts or something with a bit of sleeve and not too low-cut rather than tank tops. You can still stay cool in the noonday sun in lightweight linen pants, moisture wicking t-shirts, and breezy tops or tunics. But with all that in mind, stick to your own personal style and dress for the season.
2. Layers. Speaking of seasons, you'll need something warm for cool evenings no matter when you come. The desert climate may be hot during the day but when the sun goes down, Jordan is downright chilly. On summer evenings you'll want a light sweater or jacket and in the spring or fall you may want a fleece too. Read about average temperatures for the month you plan to come and pick a couple versatile layers that will mix and match with your various outfits. And men, scarves aren't just a popular layering piece for women here. You'll see all kinds of people rocking the scarf.
3. Sturdy walking shoes. Make sure you break them in ahead of time. A comfortable pair of sneakers will serve most purposes, whether you plan to stick with exploring cities and ruins or even venturing out to the hiking trails. In popular destinations like Petra and Wadi Rum, the terrain is a mixture of rock and sand so an option that covers your whole foot might be preferable to sandals.
4. Sandals. But bring those sandals along for a casual night out in the city or lounging on a beach in Aqaba. You'll want to air out those weary walking feet a little bit.
5. Swimsuit. What trip to Jordan would be complete without floating in the Dead Sea or hitting a resort beach for relaxation in Aqaba? Again for women, you'll see more conservative options— but two pieces or one piece swimsuits in tourist locations are common.
6. Travel medicine kit. Of course you can purchase medications in Jordan if the need arises, but when a headache hits or a new food disagrees with you, it's nice to have immediate relief available (especially for those of you who plan to camp). Consider bringing at least pain-reliever like Tylenol or Advil and some form of stomach relief such as Pepto-Bismol or Imodium. If you're traveling with kids, perhaps include a thermometer and youth concentrations of whatever medicines they're likely to need in case of an illness.
The CDC has a list of items they recommend all travelers take with them. Take a look at it here.
7. Cash. Cash is definitely the most common way to spend money in this country, but credit cards are accepted mostly at the larger establishments. You can change your dollars to Jordanian dinars in the airport before traveling, but banks and some hotels all around Amman and other cities will easily change money too. Just remember to inform your bank before the trip to keep your account running smoothly!
8. Plug converter. Jordan typically uses a standard European non-grounded, two-prong plug (type C), but you'll also find UK non-grounded, three-prong plug (type G) in some places. You can bring a converter for the type C plug or a universal adapter. And if you'll be camping, you might want to bring along a portable charger too.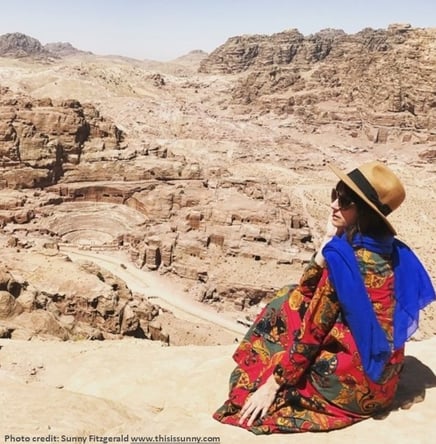 9. Sun protection. Have you ever experienced relentless, scorching, desert sun? If so, then you'll agree with us that sunglasses, sunscreen, and a wide brim hat are all a good idea. And although the sun does get hot, wearing long pants and long sleeves in a breathable fabric will certainly protect your skin more than short sleeves will.
10. Backpack. Or a tote bag, if you prefer it. But for many of your excursions, you'll want a comfortable and possibly hands-free option for carrying that extra sunscreen, water, travel medicine, water and maybe some personal items like hand-sanitizer or deodorant. Not to mention your camera or phone, since you'll want photos to remember your Jordan adventures!
We can't cover all the bases because only you know best what kind of trip you're planning. But these 10 items are a good place to start for lots of visitors and hopefully we've got you thinking about what else you'll need to make your Jordan experience one to remember—for all the right reasons.
Do you have your own recommendations on what to bring for certain activities in Jordan? Leave us a message on our Facebook page!
---
Do you love the thrill of sky diving into the desert? Or maybe you're looking for something a little more relaxing such as a day at the spa? Whatever it is, Jordan has it! We invite you to take a look at our brochures to help you plan your trip to Jordan!