In celebration of Earth Day, let's come together and celebrate the natural beauty of our planet while also reflecting on the ways in which we can travel responsibly to protect and preserve it for future generations.
Jordan certainly deserves recognition for its unique and awe-inspiring natural beauty. From the towering sandstone cliffs of Petra to the sprawling deserts of Wadi Rum, Jordan's landscapes are a testament to the incredible power and diversity of the natural world.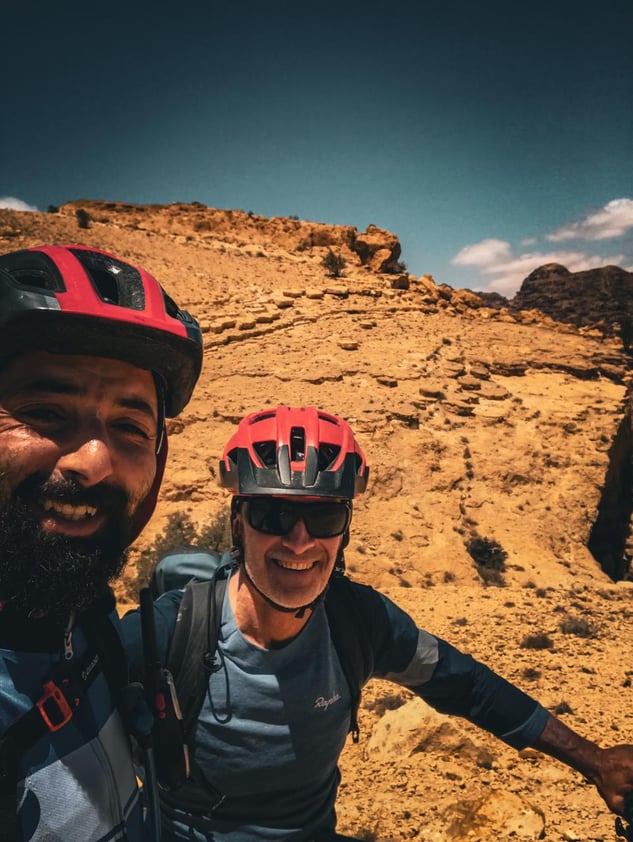 Last May photographer Kari Medig and I spent 10 days exploring sections of the Jordan Trail by mountain bike with our wonderful guide Sari Husseini of Cycling Jordan. Before leaving for Jordan I read a lot about the Jordan Trail and efforts to grow and develop sustainable tourism in a way that supports local communities.

"Sustainability" is a word you hear often in the travel business. Sometimes it rings true, sometimes it doesn't. When we arrived in the northern hilltop town of Umm Qais, it was obvious that we were in for something special. We explored the ancient city of Gadara and its beautifully preserved Amphitheatre and other Roman architectural wonders, then checked into Beit al Baraka, a nearby community-based guesthouse. It was like being welcomed into someone's home. We sat down for a home-cooked meal of rich creamy humous (the way it's meant to be,) chicken maqluba, and al-rashoof, that delicious Jordanian soup of lentils, rice and onions.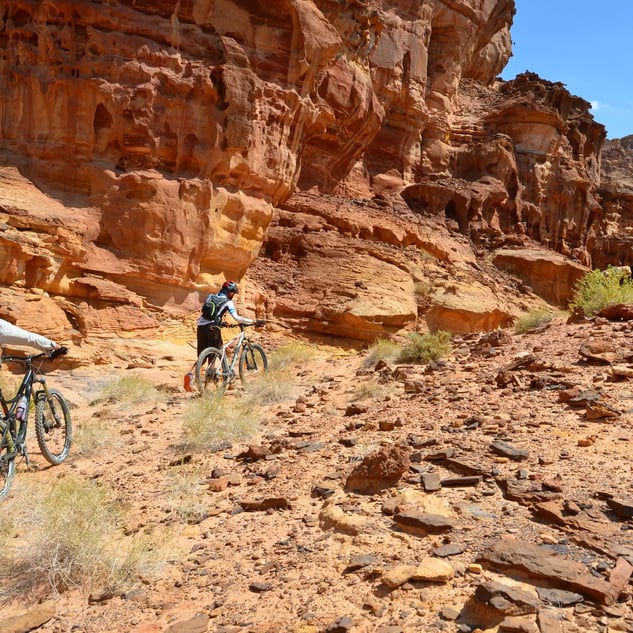 The next day we hit the trail with our bikes for an exciting day, as we followed goat trails and ancient walking paths through the rugged mountains of the north. The sun was sitting low on the horizon when we rolled into Jordan EcoPark. Set in a shady valley-bottom oasis, this fascinating project blends ecological conservation and local employment with tourism. We stayed in a cozy cabin with solar-heated showers, much needed after a dusty day on the trail.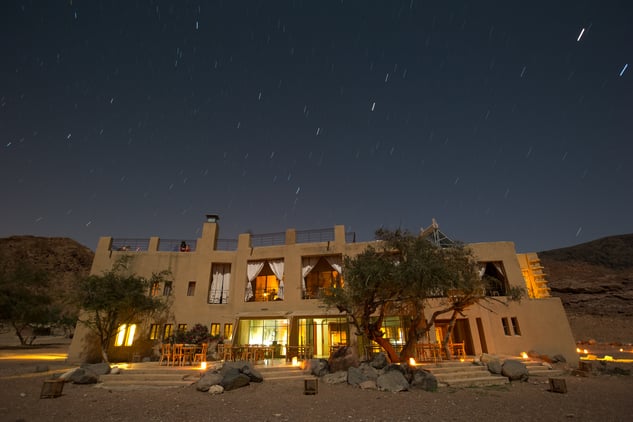 And that was just day-one on the Jordan Trail. Over the next nine days we explored the wonders of Petra and the secret passageways of Crusader castles. We pedaled our bikes through the Martian landscape of Wadi Rum and stayed at a family-owned Bedouin camp.

And we also had many unexpected encounters, like the time when we rode along one of the best natural mountain biking trails I have experienced near the striking summit of Jabal as Saffahah.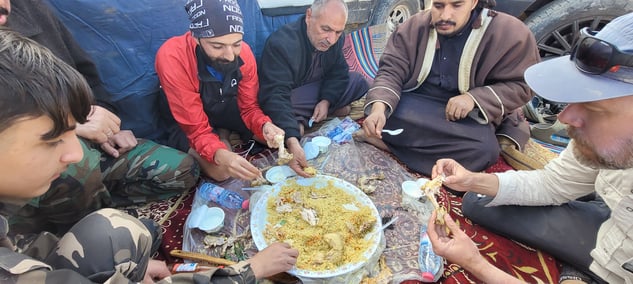 Rounding a corner, we came across a dozen men celebrating Eid-ul-Fitr, the post-Ramadan holiday. As if by magic, one of them coaxed fire from a handful of twigs, arranged rocks around them and put a kettle on for tea. Then came an invitation to a lunch of chicken and rice, prepared over open flames and enjoyed together beneath the deep blue of a desert sky.

The Jordan Trail is a like a thread winding through the diverse and fascinating culture of Jordan. But what made this trip so unforgettable is the unreserved hospitality and generosity of the Jordanian people, as we experienced with that impromptu feast on a remote mountainside in this magical desert land.