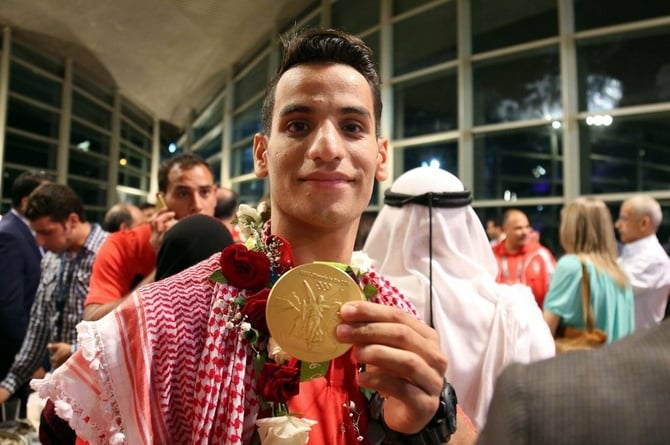 Congratulations to our very own Ahmed Abu Ghaush, who turned a remarkable new page in Jordanian history, a page covered in gold!
By winning the gold medal for taekwando at the 2016 Rio Olympics, Abu Ghaush brought home not only the first gold medal in Jordanian history, but the first medal in Jordanian Olympics history.
Congratulations wishes flooded from Jordan and all over the Arab world on the monumental achievement of Abu Ghaush. Leading the wishes was Her Majesty Queen Rania, who went on twitter to congratulate the champion upon his victory. In a post in Arabic on Twitter, the Queen added: "You delighted #Jordan with your great achievement".
Upon returning to Jordan, Abu Ghaush was treated to a hero's welcome. He was honored by His Majesty King Abdullah.
Jordanians took to social media platforms to express their happiness in Abu Ghaush's historic victory, who they say united the country and made every Jordanian proud.
Abu Ghaush, a 20-year old business student, was granted a full scholarship by the University of Jordan to reward him for his achievement.
We at JTBNA would like to express our congratulations and immense pride in the remarkable achievement by Abu Ghaush!
Read more about Ahmed Abu Ghaush here