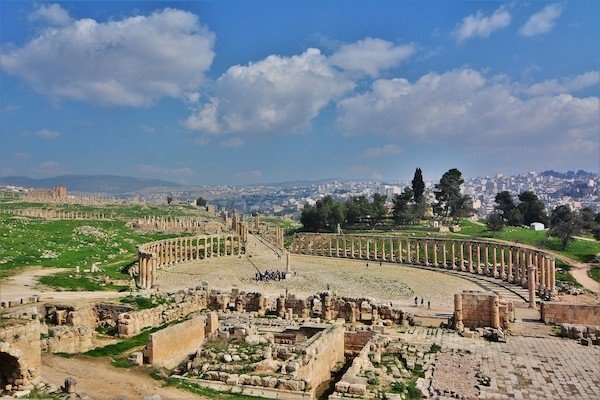 In February of 2018, the Jordan Tourism Board North America (JTBNA) in partnership with Tourism Cares launched the first ever Meaningful Travel Map of Jordan. The map, an interactive resource is meant to educate the travel industry and travel-goers about the many social enterprises and nonprofit organizations in Jordan that offer incredible experiences to tourists and directly benefit the community. There are currently 12 social enterprises on the map and there are plans for even more to be added.
What is Tourism Cares with Jordan?
Tourism Cares' mission is to help people in local communities advance and thrive through tourism. Jordan was chosen because it is a beautiful, safe country with rich history, culture and community. Frequently referred to as "the biggest small country in the world," Jordan has something to offer for every kind of traveler. Taking advantage of this, Tourism Cares hopes to inspire the travel industry to start looking at buying local, staying local and supporting local communities in Jordan.
Some of its goals include the following:
1. Engage government and industry in corporate social responsibility (CSR) and sustainable tourism. We will (a) establish a partnership with the Jordan Tourism Board (JTB) and the Jordan Inbound Tour Operators Association (JITOA) to support industry giving overall, and (b) share CSR best practices and ideas, along with issues specific to tour operators.
2. Explore Jordanian social enterprises for tourism that offer authentic traveler experiences while also supporting a social change effort. Even if you don't operate in Jordan, you'll learn lessons to apply elsewhere. We'll launch the Meaningful Travel Map to Jordan with a starter list of 12 social enterprises, which you'll have a chance to visit or meet.
3. Volunteer and give back with a major volunteering project as well as any other support generated from the community.
4. See the very best of Jordan through a social impact lens. From the wonders of Petra, the Wadi Rum desert, or the Dead Sea, the Jordan Trail and connections with local leaders from the community and from travel, we are committed to providing an inspiring travel experience interwoven with social impact.
What happened at the Tourism Cares with Jordan event in 2018?
Tourism Cares with Jordan hosted 70 professionals from various parts of the travel industry - including the U.S. government, association executives, and leaders from cruise lines and travel organizations. Over the course of the six-day event, attendees were able to experience the greatest highlights of Jordan as well as a number of social enterprises. There were three tracks that attendees were able to choose from:
SOCIAL IMPACT - going deeper into cultural organizations and enterprises focused on livelihoods;
ENVIRONMENT + COMMUNITY - exploring the intersections of the land, tourism and social development; and
HERITAGE - looking closely at a few of Jordan's World Heritage Sites and their relevance and potential for today.
Hear from JTBNA Director, Malia Asfour, to learn more about what happened at the event:
What does this mean for the travel industry in Jordan?
More and more travelers are looking for unique, local, authentic, cultural experiences. Planeterra asked over 3,700 travelers what interests them out of a list of "sustainable practices" on tours and the results overwhelmingly pointed to "local." Interactions with local people, hands-on activities, and activities that benefit local communities came out on top.
Travel companies can support social enterprises by purchasing products or services directly from them to create unique experiences for their customers. Additionally, they can invest in the development of social enterprises to improve their products or develop new ones by working with and through NGO partners.
---
Learn how you can incorporate on of the 12 social enterprises into your next trip to Jordan by visiting the Meaningful Travel Map of Jordan!