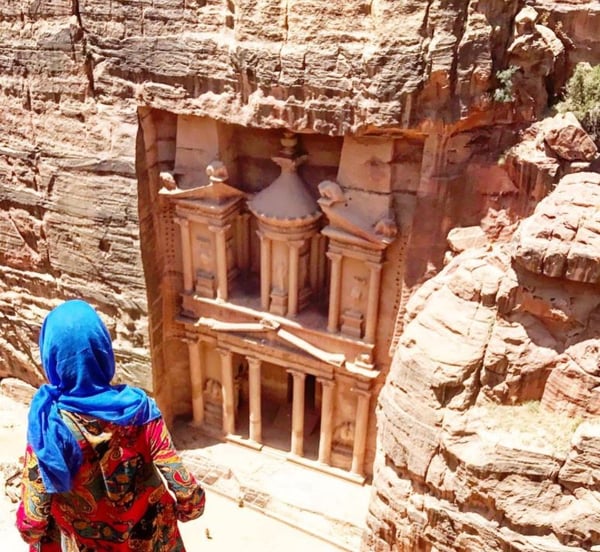 Starting on March 2, 2018, I will embark on a 400+ mile hike across Jordan. You can follow my journey on IG, Facebook, and Twitter by searching #SunnyWalksJordan.
Last year, the Jordan Trail Association (JTA) took a group of hikers on the first official fundraiser thru-hike — 40+ days, walking the length of Jordan — from Um Qais in the north to Aqaba in the south. The trail has been 30+ years in the making, but this was the first go at organizing a group, complete with coordination of local homestays, guides, meals, etc. Only eight hikers completed the first full thru-hike*.
The mission of the Jordan Trail is to connect travelers with the land, people, history, and culture of the country; contribute to local communities and economies; and inspire a behavioral shift by promoting environmental and cultural awareness. The trail passes through through 52 towns and villages, with stops at historic sites and even some overnight stays in local family homes.
Why would anyone spend 40+ days hiking across an entire country? Every thru-hiker has their reasons, and here are a few of mine.
But first, let me introduce myself!
My name is Sunny Fitzgerald, and I'm a freelance writer and sustainable travel specialist. My work has appeared in National Geographic, Lonely Planet, BBC Travel, Mic, and more. I'm also the Founder of FROLIQ, a media member of the Adventure Travel Trade Association, and a regular contributor to Kama`aina Magazine.
I have worked tremendously hard and long to have destination expertise in over 20 countries, a BA in International Studies from Middlebury College, an MA in Cultural Sustainability, certification in Sustainable Tourism, and more than a decade of experience designing international programs for adventurous and conscientious travelers.
And journeying the Jordan Trail seems like the next right step for me.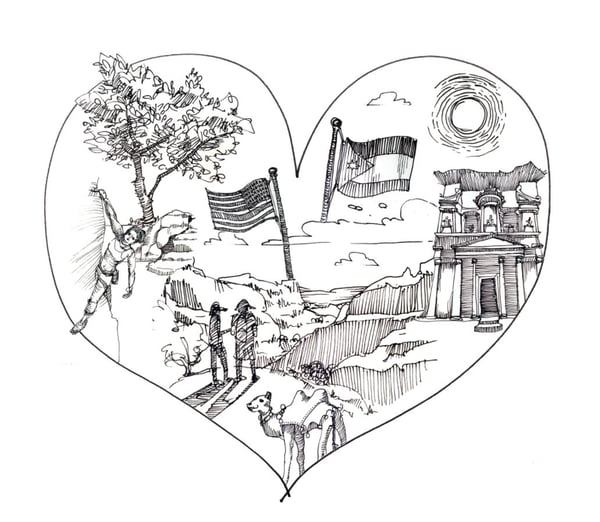 1. I want to — quite literally — walk the walk, and engage with this sustainable tourism initiative.
I am an advocate of responsible tourism. In my work, we talk a lot about the impacts of travel and whether visitors hurt or help the people and places they visit.
The Jordan Trail is demonstrating how — when done right — tourism can benefit people and planet.
The money raised will be given to the Jordan Trail Association to cover the costs of the thru-hike, maintenance of the trail, contribute to the development of communities through job creation, and support their mission to create a shift toward cultural and environmental awareness.
2. I want to contribute positively to the dialogue about the Middle East.
In the US, we often see negative stories of the Middle East in the media. This is, as novelist Chimamanda Ngozi Adichie says, "the danger of the single story." There is SO MUCH more to Jordan than the regional issues that make the international news! In walking the length of the country, I will have a unique opportunity to get closer to the land, history, culture, and people. And I will share some of my experience and their stories with you.
3. I want to bring more visibility to hidden medical conditions.
I have a rare neurological condition called SHM that I never talked about publicly until recently. I suffered in silence — arguably, denial. When I finally published an article about it, I received messages and emails from people that also suffer with debilitating conditions, thanking me for sharing my story and telling me that it inspired them to believe they could travel or pursue their dreams, too. Some even said that reading my story inspired them to visit the doctor and seek a diagnosis — their symptoms were similar to mine but before reading my article, they were suffering with symptoms they didn't understand.
There is no cure for SHM, many doctors aren't familiar with it (which can lead to misdiagnosis), and the medical community can't agree on the best treatment. I hope that in walking 400+ miles across Jordan, my story can (1) inspire SHM sufferers and those with hidden medical conditions to travel and pursue their dreams, (2) create awareness about SHM and other hidden medical conditions, (3) inspire others to be more compassionate — you never know what someone else is struggling with, and (4) motivate more people in the medical field to find a cure… or at the very least, better treatment options.
4. I want to inspire my nieces, nephews, and other young people - particularly from small, rural towns — to think BIG and think globally.
I grew up in a town so small it didn't even have a single traffic light. Our entire school K-12 had 500 people. When you live in a rural place, if can be difficult to envision global possibilities for your life. If you had told teenage me that adult me would be writing for well known publications and walking across an entire country in the Middle East, I may have doubted that was possible. But if you'd shown me a woman from my town that had done it, I'd believe I could, too. We are capable of more than we might think. But sometimes we need to see to believe.
5. I want to be the first** American female to complete the official JTA fundraiser thru-hike.
But HOW?!
The Jordan Trail Association organizes one supported thru-hike per year. They handle the logistics, arrange the local guides, transport equipment as needed, coordinate homestays and the occasional hotel, etc.
But THEN WHAT?
What do I have planned for life after the trail? I can't predict the future (and can't give away ALL my secrets), but I can say that whatever happens after the trail will involve LOTS of trail-inspired writing and photos. More on this to come. If you're an editor interested in some of the ideas I've got brewing, please contact me.
* Other hikers joined sections of the thru-hike, but only eight hikers completed the entire inaugural thru-hike.
** One American woman completed the thru-hike last year with her partner, but not as part of the official 40+ day JTA fundraiser thru-hike.
---
Follow Sunny's journey on the Jordan Trail - see pictures, read stories and learn more about how you can hike the Jordan Trail!