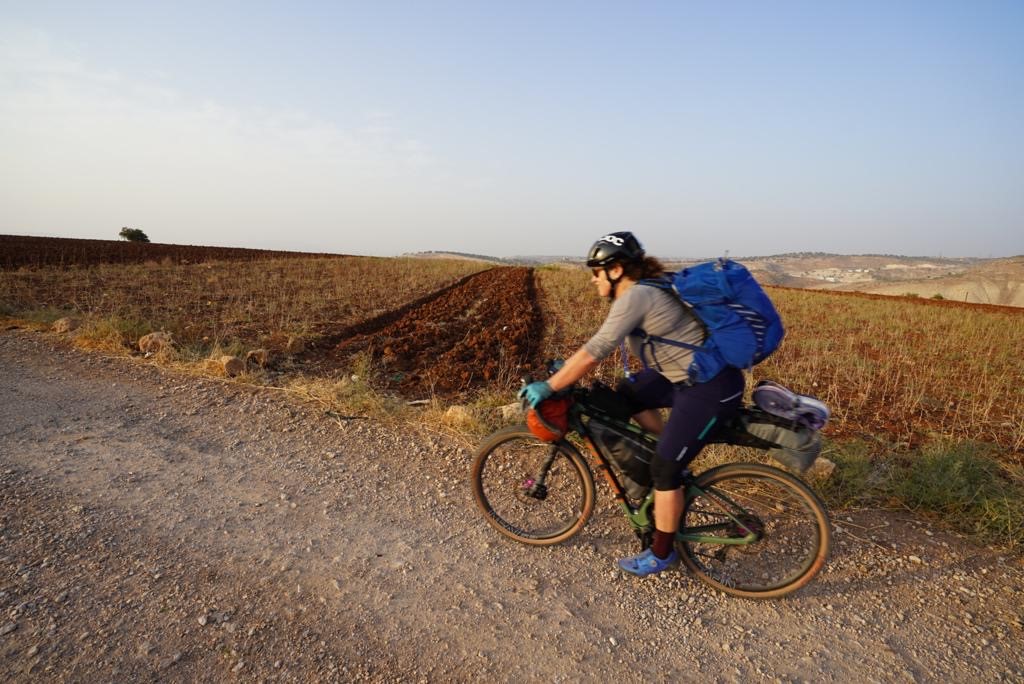 On November 13, 2019, Amy Jurries departed from Um Qais on a 454-mile bike ride on the Jordan Bike Trail, reaching her final destination of Aqaba on the Red Sea. This 13-day bike ride is comprised of 12 stages and passes through three regions of the country (Northern, Central and Southern).
Unlike most bike-packing trips, I have a strong feeling I may gain weight on this one. Our morning started with a huge breakfast spread put on by Rania who came to Beit Al Baraka to cook for us. She made malageesh, a bread coated in olive oil and zaatar spice, eggs poached in a spicy tomato sauce (amazing!), yogurt with local honey and qumquats, labneh and white cheese, along with all sorts of homemade jams, olives, and other pickles. In short, it was incredible.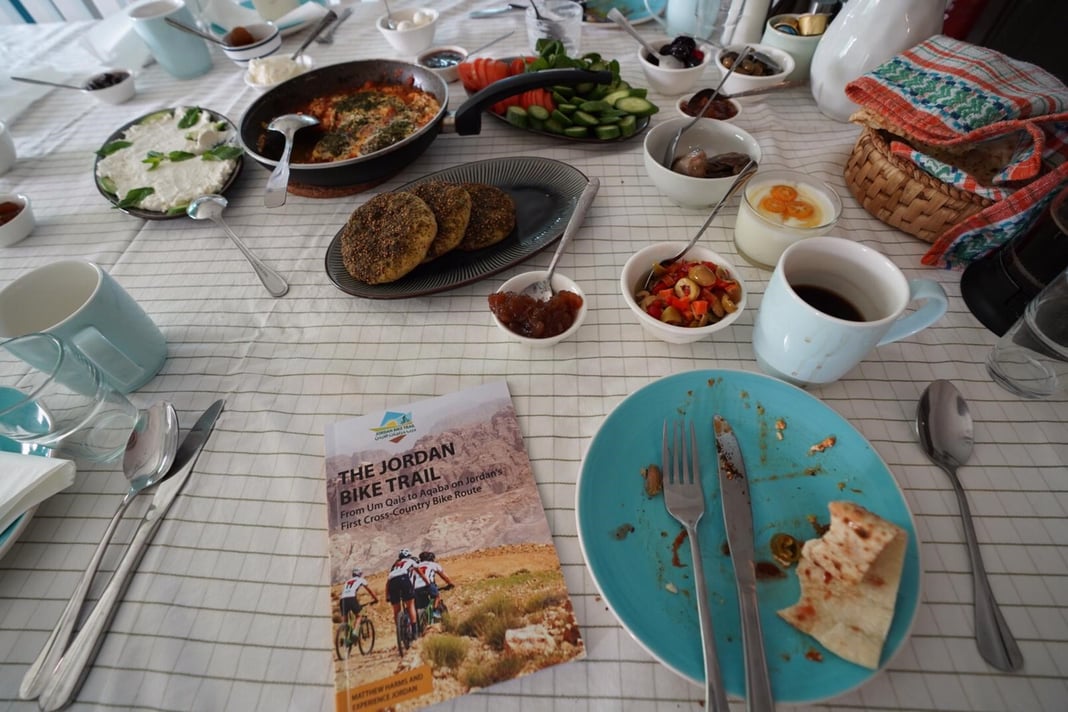 Today would be our official first day on the Jordan Bike Trail. Our goal for the day was to set up camp in the Burqush Forest just outside of Kufr Rakeb—some 67 kilometers and over 1700 meters of climbing along the trail. After a quick look at the Decapolis ruins in Um Qais, left over from the time of the Roman Empire, we set off on route.
This northernmost section of trail rolls up and down steep and rocky limestone hills covered in olive trees as far as the eye can see. The smell of fresh pressed olive oil filled the air and we stopped to watch as families worked to rake ripe olives from the branches, dropping them onto colorful blankets below.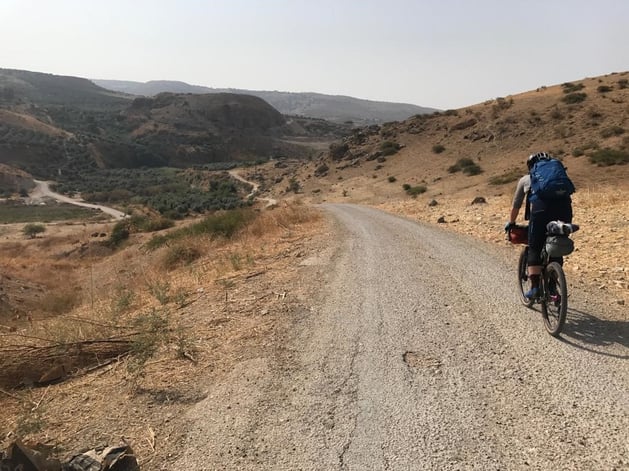 Everywhere we went we were greeted with shouts of "Welcome to Jordan!" Or "Hello, what is your name?" And "Where are you from?" Numerous people tried to coax us off our bikes and inside their house or shops for tea. It would take us two months to bike the Jordan Trail at this rate!
Before dropping down into the Jordan Valley, the lowest point on the trail, we stopped to take a break and snack on freshly baked bread and cardamom-spiced coffee in Samou, rolling in just as the afternoon call to prayer broadcast over the city.
The later afternoon section from Samou to Pella was the highlight of the day for me, thanks to the beautiful light cast by a sun low in the sky, the quiet, olive tree-lined roads, and infinite rows of rolling hills before me, blended together beneath that beautiful pre-sunset haze that captures my heart each time I come to Jordan.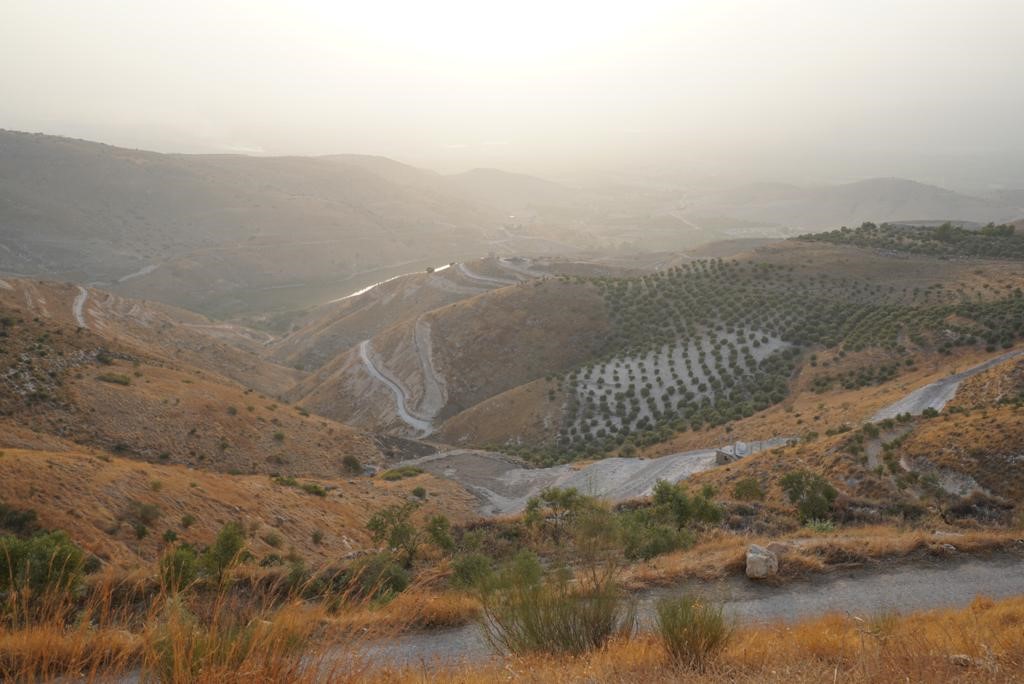 Riding along the King Abdullah Canal, watching the sun, now a deep red orb, set beyond the fields of fruit trees, a truck pulled up next to us and started honking. A man leaned out of the window and with a smile on his face, handed us each a huge lemon before placing his hand over his heart and driving off. Such a touching moment.
We originally planned to follow exactly the 12 stages recommended on the Jordan Bike Trail website but after a really late start due to some bike issues, further tire problems on the trail, and early time for sunset (before 5pm) this time of year, it became quickly apparent we may need to reset our expectations for the day.
As we approached Pella, fortune had it that the manager of a nearby hotel and restaurant, both called Pella, saw us on our bikes, found out we were Americans, and insisted we come stay with him for the evening.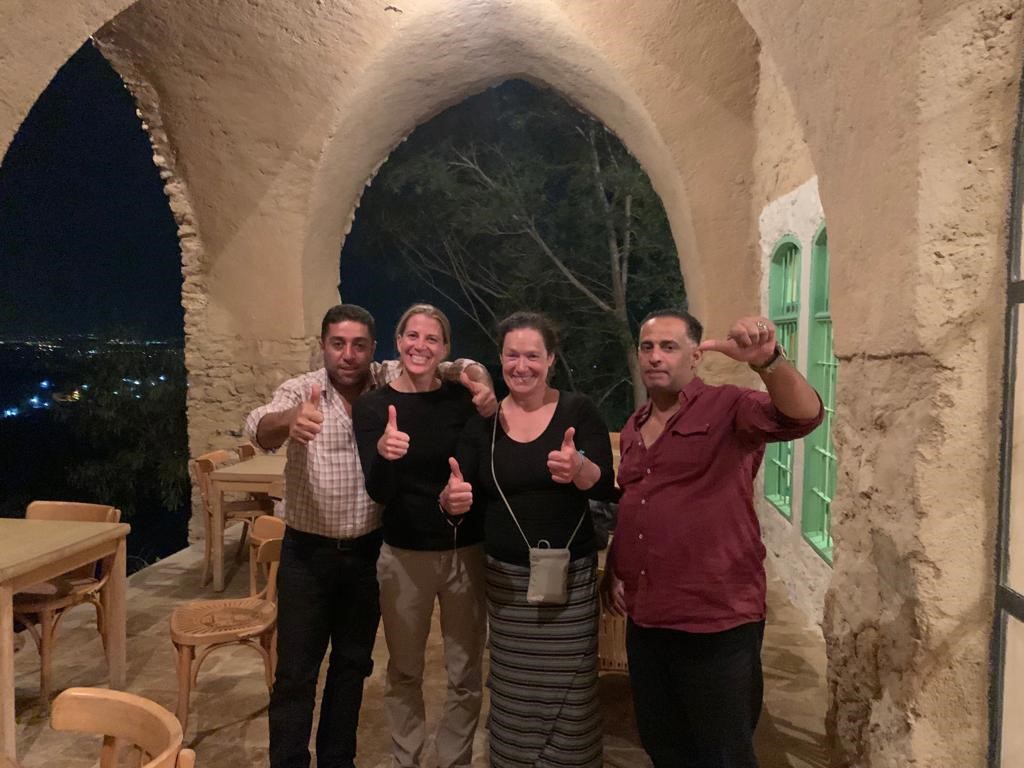 Later that evening at his restaurant, Pella Restaurant, located on a hill overlooking the Jordan Valley and the twinkling lights of Palestine beyond, we gorged on freshly caught Saint Peter's fish, soaked in Arak (a local whisky), and deep fried. As we shared in the fish, we said "shukran jazilan" for all of the heartfelt Jordanian hospitality we had received over the course of the day. And to think this was only our first day on the trail.
Subscribe to the blog for more on #AmyBikesJordan!