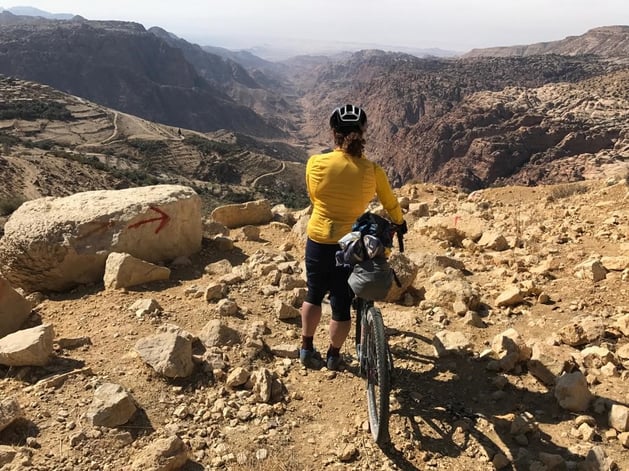 On November 13, 2019, Amy Jurries departed from Um Qais on a 454-mile bike ride on the Jordan Bike Trail, reaching her final destination of Aqaba on the Red Sea. This 13-day bike ride is comprised of 12 stages and passes through three regions of the country (Northern, Central and Southern).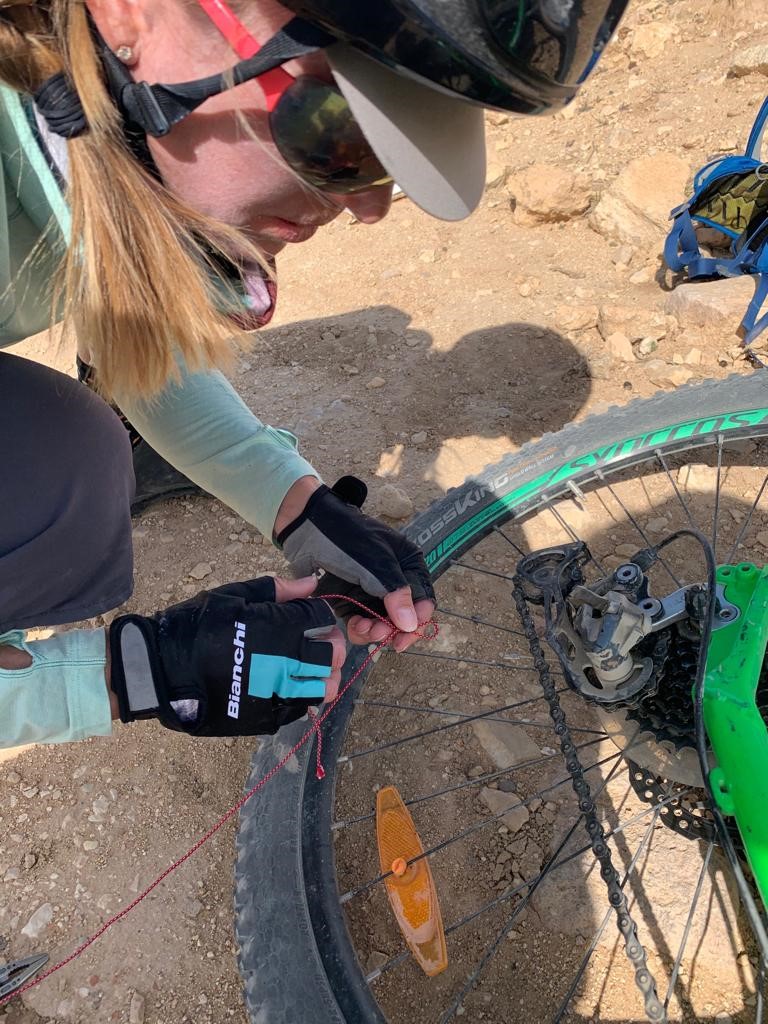 The first rule of bike-packing is that absolutely nothing goes according to plan. I seem to have a case of bad bike karma this trip as I had yet another mechanical yesterday—this time my rear shifter cable snapped, leaving me in the hardest sprocket. This meant I hard three relatively hard gears left to get me the rest of the way to Petra. With a bit of teamwork, we made it work.
On one particularly steep section of trail, I had to get off and push my bike. A young boy with his donkey and pack of goats watched nearby. He felt a bit sorry for me and offered for me to ride his donkey to the top and push my bike for me instead. It was very sweet!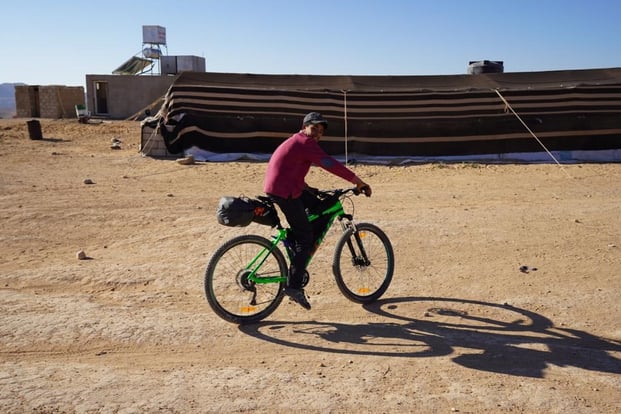 No bike shops in Petra meant we had to turn to YouTube to come up with a solution. Thanks to GCN and Berne's prowess for tinkering with bikes, we musty rigged it to where at least I had three reasonable instead of hard gears. Three gears and three days to Aqaba!
We originally thought about combining two stages and riding almost 120 km from Petra to Wadi Rum in one shot, but with only three gears and the short amount of daylight this time of year, we decided to go for a more chill couple of days and stop at Abu Subah's tent in Abbasiya for the night, halfway to Wadi Rum.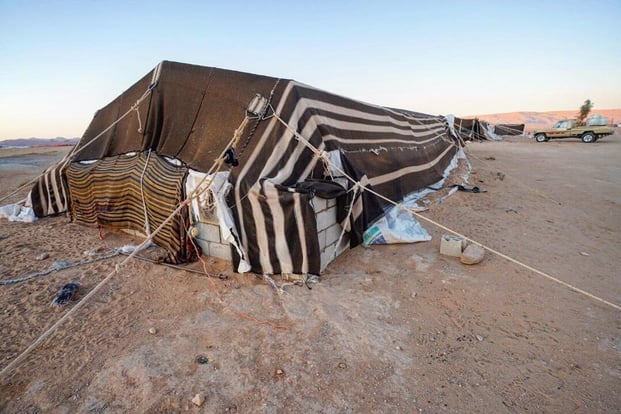 I had visited Abu Subah on my last trip to Jordan but only for lunch, so was now excited to spend the night in a Bedouin tent and better get to know their way of life. As soon as we rolled up, Abu Subah's youngest son, Ahmed, came out to greet us and asked us if we would like to stay. He showed us to the visitor's tent, a large structure stitched together from black goat-hair and sheep's wool blankets and burlap sacks to block out the wind. Carpets covered the dirt floor on one end, with cushions for sitting and sleeping. Ahmed brought us some sweet Bedouin tea to further welcome us as we unpacked our bikes.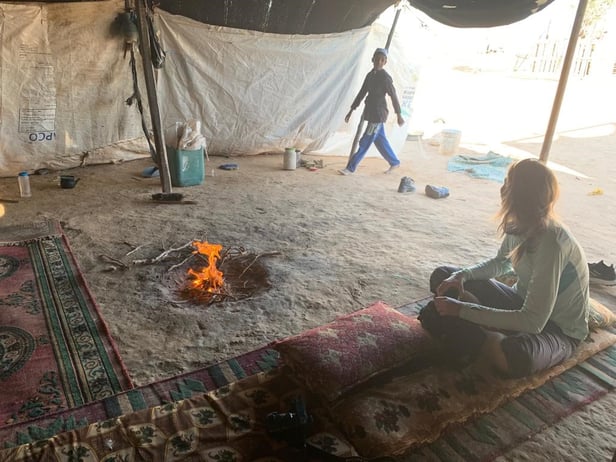 Out back sat a small bathroom structure, with solar-heated showers—a new addition since my last visit. The men's tent was next door and further down the row, blocked by a burlap screen so you couldn't peer inside, was the women's tent. A few camels roamed the property, with goats, sheep, chickens, a donkey, cats, and even a cute dog who just wanted to be pet behind the ears.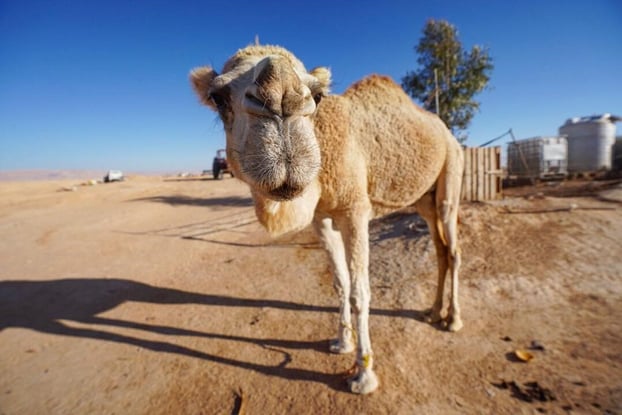 Abu Subah himself was away in Araba Valley on a week-long hiking trip but his wife, four of his six daughters, and four of his eight sons were home. Ahmed goes to school in the nearby town of Abbasiya and speaks very good English. The four youngest daughters trade off between spending the day "go sheep" while the other two cook and clean back at the tent.
Abu Subah's wife grabbed us immediately and brought us over into the women's tent. When we walked in, one of the daughters was busy sewing together large swathes of burlap, potassium nitrate-labeled bags to reinforce the tents in preparation for winter.
The rest of the women sat around the small fire pit near the entrance end of the tent, making sweet tea and warming up after walking the hillsides with the sheep all day. One showed us the beadwork that they craft in their spare time, while another showed us photos of Abu Subah and other visitors to their camp.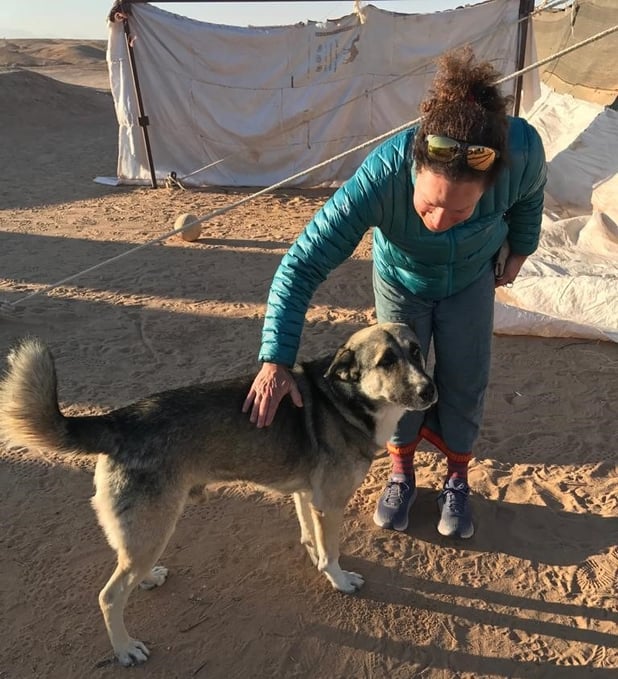 So happy and welcoming, the women of the family immediately endeared themselves to me. Berne and I were given Arabic names—mine Sharook for sunrise. I love that name and think I just might keep it.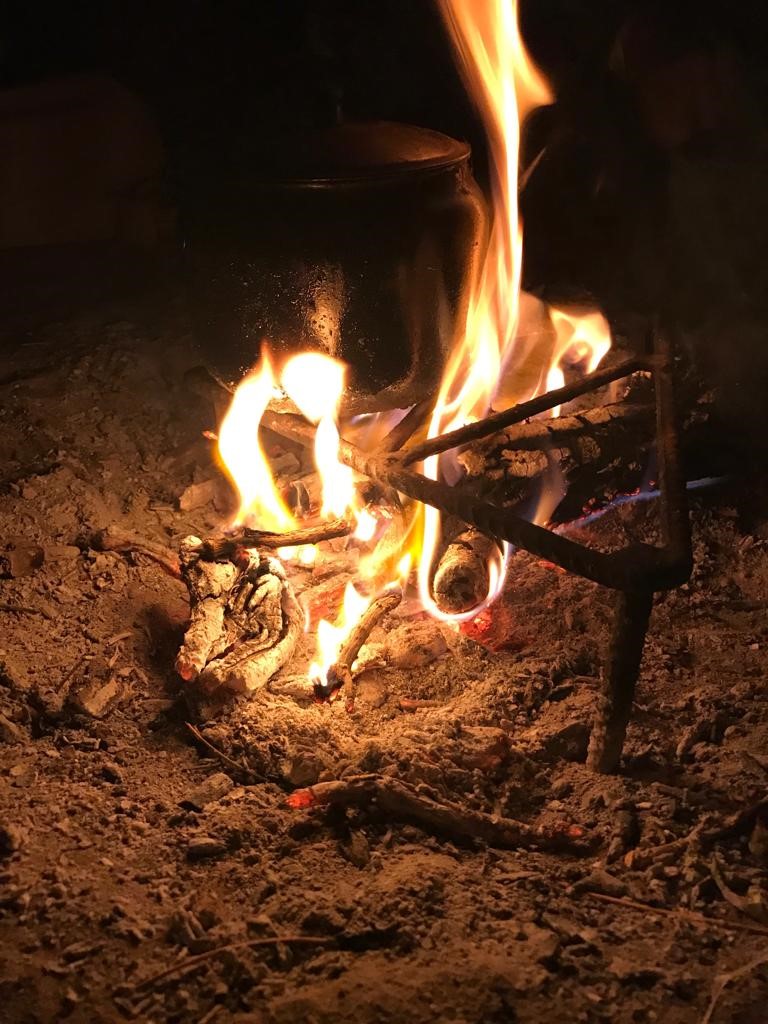 Sitting on cushions in the sand around the smoky fire, we watched as they made maqluba—a dish of chicken, rice, and vegetables—in a large pot over the open flames. We smelled the spices before they added them to the dish, tasted the broth as it was cooking, and watched as they chopped up tomatoes and cucumber to go on the side. I offered to help but they said I was too tired from biking all day and must sit and drink sweet tea to replenish myself instead.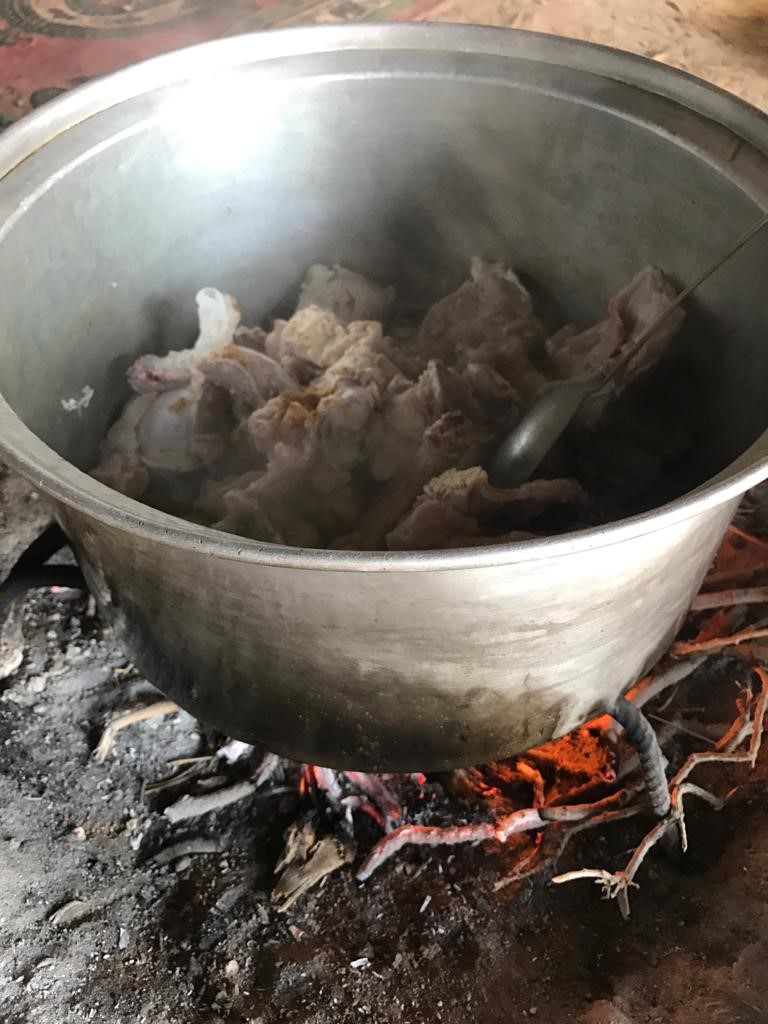 When the women all agreed the maqluba was ready, they turned the contents of the pot upside down onto a large serving plate set on a plastic sheet in the middle of all of us. Thin bread pulled out of a burlap bag, the bowl of tomatoes and cucumbers, and yogurt were served on the side as an accompaniment. We all tucked in together, using our right hands to eat.
I have yet to master the art of eating with my right hand. You kind of mash everything up into a ball and then bring it to your mouth — but I made a right mess of it, which of course the women found entertaining.
After dinner we shared some more sweet tea while sitting around the fire, listening to the news on the radio as they tried to teach me some more Arabic words like kelp for dog and counting to ten. We retired early as the women had to get up at 4:00 am to "go sheep" and the others were tired from tending to the sheep that day.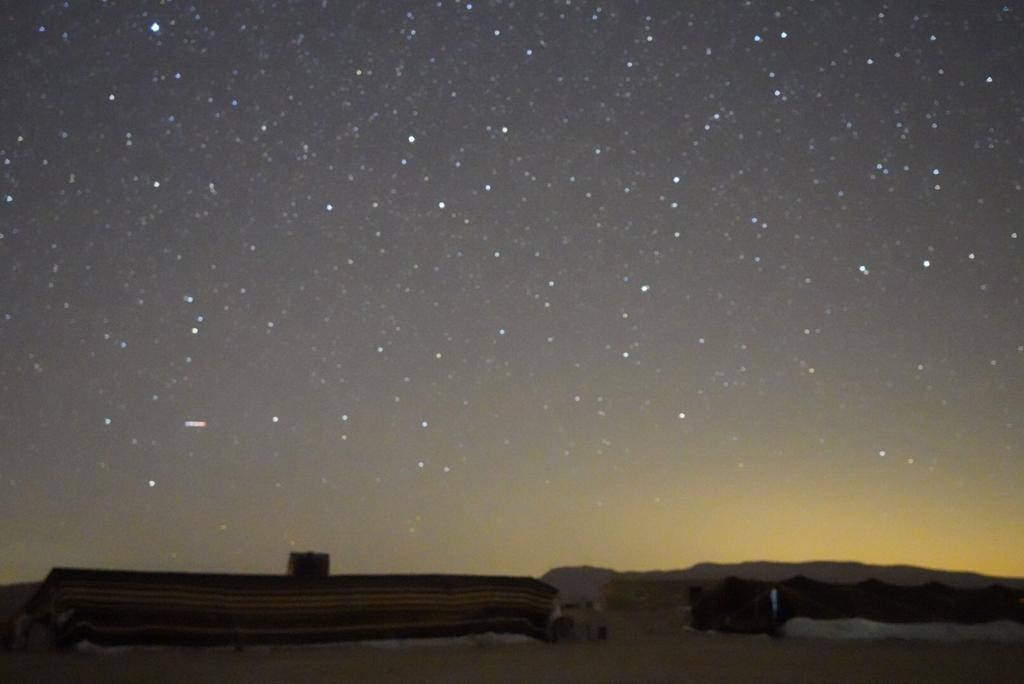 After all the tents fell quiet, I went outside to look up at the stars. With no cities for miles, you could clearly see the Milky Way and what felt like billions of stars. I fell asleep to the sound of groaning camels and barking dogs in the distance, soothing rural noises in exchange for the bustling city noises of Wadi Musa the night before. A night I will cherish for a long time to come.

Subscribe to the blog for more on #AmyBikesJordan!