Jordan is a great destination for moms-to-be. Is your partner an adventure seeker, history buff or culture addict? Consider it for your babymoon plans!
Have you ever considered taking your mom or mother figure in your life on a once in a lifetime trip to the Kingdom of Jordan for Mother's Day? Jordan is a great destination for moms-to-be as well. Is your partner an adventure seeker, history buff or a culture addict? Jordan was the first international trip I took after my doctor confirmed that I was pregnant. Weeks pregnant, our baby was about the size of a lime. While there was a smidge of first trimester morning sickness, I honestly felt great. Consider the Kingdom of Jordan for your babymoon plans!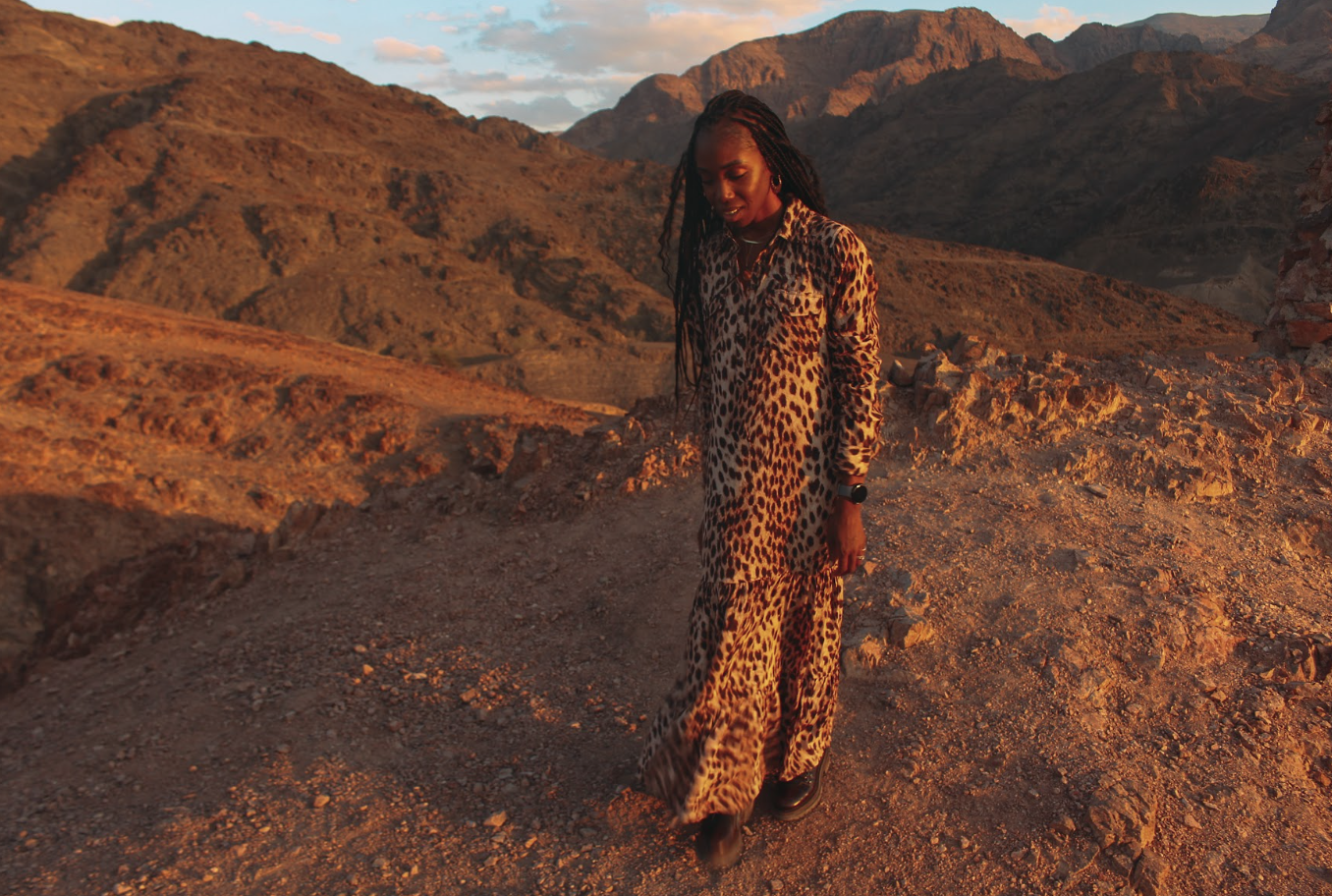 A babymoon is a celebratory vacation. Enjoy one last adventure before the beautiful chaos that's the arrival of your new baby. A babymoon can be whatever the couple wants it to be: relaxing, adventurous, something you've always wanted to do. Jordan is a pregnancy friendly destination.
A visit to Jordan is a bucket list destination as the UNESCO World Heritage site, Petra is also one of the 7 wonders of the world. Many people come for Petra and their trip is further enhanced by the many attractions Jordan has to offer. Start in Amman. This thriving metropolis is a beautiful blend of the ancient city and modern city with Jordan welcoming immigrants and refugees from around the region. You can spend a morning learning about the local artistic community via street art and hip hop with Underground Amman Tour. That evening see the spectacular sunset at the Amman Citadel, an archaeological site that sits atop the city, overlooking downtown and the Roman Theater, and believed to have been built between the 7th and 8th century.
Sure, you can lay on a beach but they do advise being active during your pregnancy when possible. So, keep it moving!
Whether it's exploring the Amman Citadel or the Underground Amman Tour, the Greco-Roman City of Jerash in Jordan's green lung in the North, the Petra archaeological site, or Wadi Rum desert, there is the possibility that you will be walking a lot during your Jordan holiday. However, many of the sites are also ADA compliant and offer alternatives. Flash forward to me Googling "Can I ride a camel while pregnant?" (The answer is yes.) "Getting around Petra safely while pregnant?" It can be hot, depending on the time of day and year as well as long walks, but now, there are electric golf cart rides! Depending on your comfort level Jordan is a great holiday where you can be just active enough while pregnant. You're getting these steps through centuries old roads! In Jordan, you might be walking in the steps first walked by the Nabateans in the sixth century BC. Talk about setting up a dynastic life for your baby! I excitedly checked my steps after every day, far exceeding my goals. And don't worry, there's almost always a relaxing tea offered in between locations! There's nothing like that desert light… think desert maternity photos!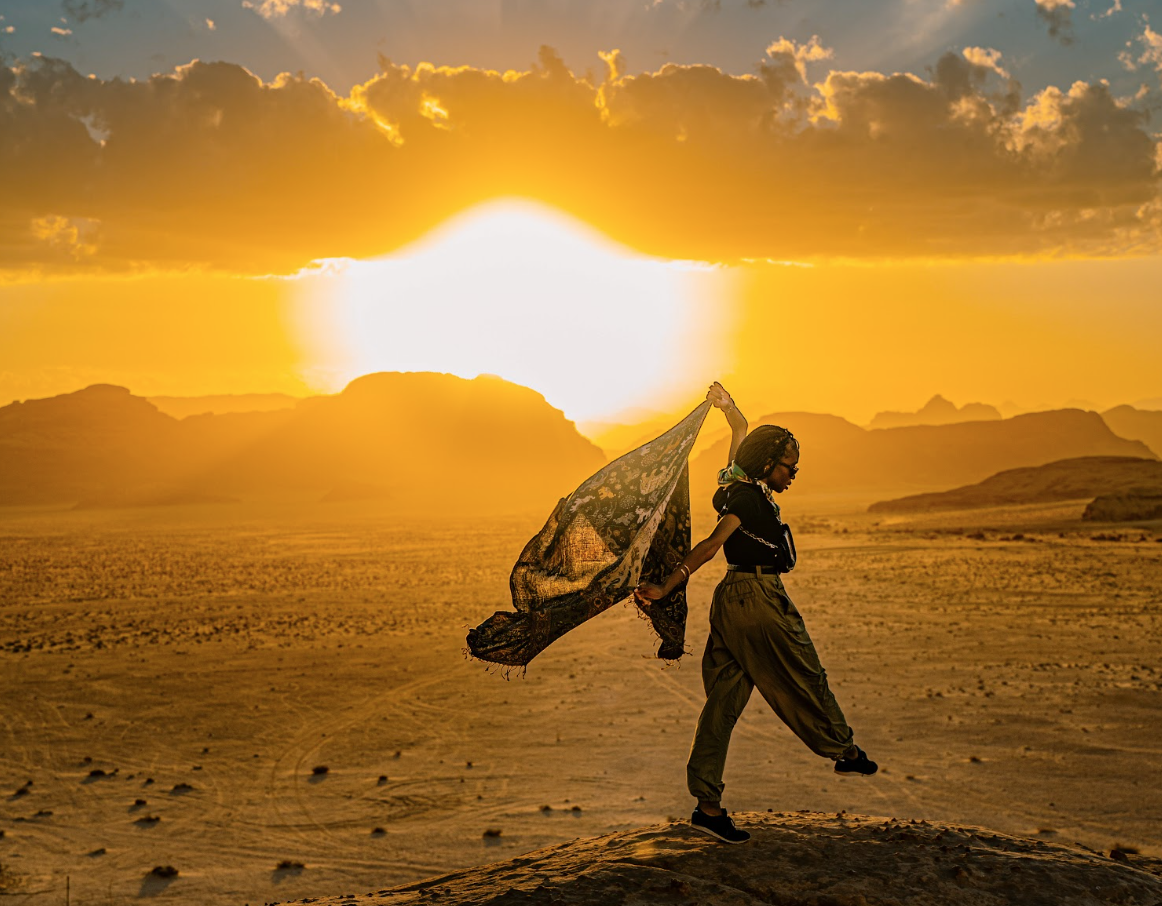 A mothering community.
I wasn't sure how my audience would receive me traveling and being so active while pregnant. But then an advisor told me, "you set the tone!" I've been grateful for so many people, and pregnant people reaching out about travel advice. "What is it like traveling while pregnant?" I traveled through Jordan in my first trimester and no one knew besides my husband and I. While receiving a massage at Kempinski Ishtar Dead Sea Hotel, a fellow journalist overheard me telling my massage therapist. She said she had a feeling. The care and comfort of both these women brought tears to my eyes.
During pregnancy, you can feel a strong connection to your body, femininity, and motherhood. There can be an overwhelming desire to create a safe space for your baby. For me it was a safer community and safer world. I knew going to Jordan that Queen Rania has been a longtime advocate of women's rights. We visited a patronage founded by her predecessor Queen Noor, Iraq Al Amir Women's Cooperative, a community-led group aiming to help local women become financially independent while preserving local heritage. I've long held the belief that when you empower women, you empower communities and to be able to eat and shop – great ceramics – at this multi-generational cooperative was a beautiful experience.
Another multigenerational experience empowered by a community of women is cooking Beit Sitti. A female-led, family run business that fosters community and generations of women around food! Learn how to make an authentic Arabic feast with a 'teta' (Arabic for grandmother) in one of the oldest neighborhoods in Amman. The weather was warm enough that we cooked outdoors on a terrace with a panoramic view of the city. The property is the former home of the mother of Sherin Mseis Haddad. Haddad and her daughters enhanced this magical space to honor their grandmother. Missing my own grandmother during this pregnancy and her take charge attitude in the kitchen, Um Reem expertly guided me as we prepared recipes on the terrace and in the comforts of grandma's kitchen.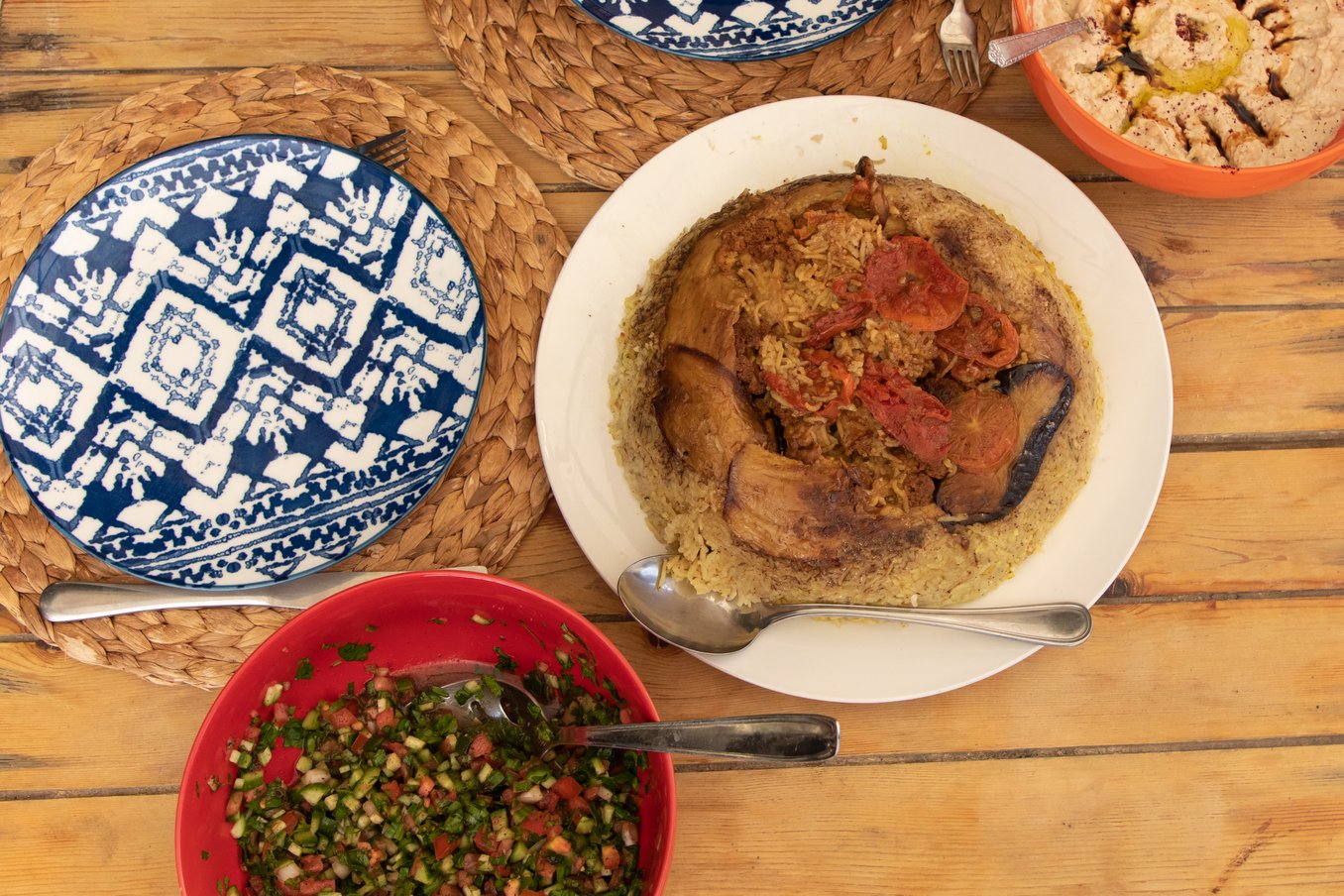 Pregnancy cravings? The spread of Jordan cuisine will delight you

and

your baby!
With the wide range of food and flavors, I knew Jordan would be a delight. Sweet, salty, traditional Arabic pastries, the delicious array of honeys. I tried them all! One of the first things my doctor recommended is calcium rich Greek yogurt. I had so many delicious yogurt based sauces to choose from in Jordan! Then there's the protein and yogurt rich traditional Jordanian dish of mansaf (a traditional lamb dish cooked in yogurt sauce). Yum! Every morning, at breakfast, I sprinkled za'atar over my labneh to start my day. Similar to Greek yogurt, labneh can boost immune function and eating high-protein dairy products can increase metabolic health functioning and bone density. On road trips in Jordan, I snacked on pregnancy-musts like dates, rich in fiber, potassium and iron. Women owned micro-business Jordan Heritage Restaurant showcases the diversity of cuisine that Jordan offers in all of its regions! Jordan's cuisine was filled with what my body needed during pregnancy and I raided a spice store to try to mimic these recipes at home!
There is a wine region and a wine culture, but due to cultural norms, you'll often find a

substantial

fresh juice menu!
Embracing the sobriety that comes with being pregnant, Jordan offered an amazing get-away filled with teas and delicious juice options. I was very pleased to find out there is a strong wine culture and enjoyed smelling the St. George varieties at Zumot Winery and Vineyards in Amman. The robust juice menu due to the majority of the population being of Islamic faith made it really easy. Pomegranate juices, an amazing pineapple concoction in Wadi Rum… Mocktails aren't a trend in Jordan — they've been an option for some time!
The original wellness vacation!
For millennia, the Dead Sea has been a healing site and the original spa industry. Currently in my third trimester, I'd love a Dead Sea float and scrub to soothe pregnancy aches, pains and swelling. As I scan through pharmacy aisles figuring out cures for stretch marks, I miss lathering on Dead Sea mud that left my skin ultra soft. While at the Dead Sea, we stayed at the Kempinski Ishtar Dead Sea Hotel. After telling the The Ishtar Spa by Resense team there that I was pregnant, I received my first prenatal massage! I was handled with grace and absolutely spoiled!
Consult your physician before any international travel while pregnant. Jordan is considered a medical haven in the Middle East and North Africa region.
Jordan is well regarded in its healthcare sector with almost 10% of its GDP being devoted to health care. According to the World Bank, Jordan is ranked first in the MENA region as the best healthcare service provider and is a top destination for medical tourism. Many of Jordan's physicians tend to be Western-educated. Jordan felt safe for a woman solo traveler. From the city of Amman to the renowned hospitality of the Bedouins, Jordan is that bucket list babymoon destination where you can really let your shoulders down and just explore. My doctor was excited for me to go to Jordan. Now, able to travel into the middle of my third trimester with a doctor's note, my doctor just recommends that I make sure to regularly get up from my seat on long flights and circulate my blood flow. Also, compression socks are a game changer.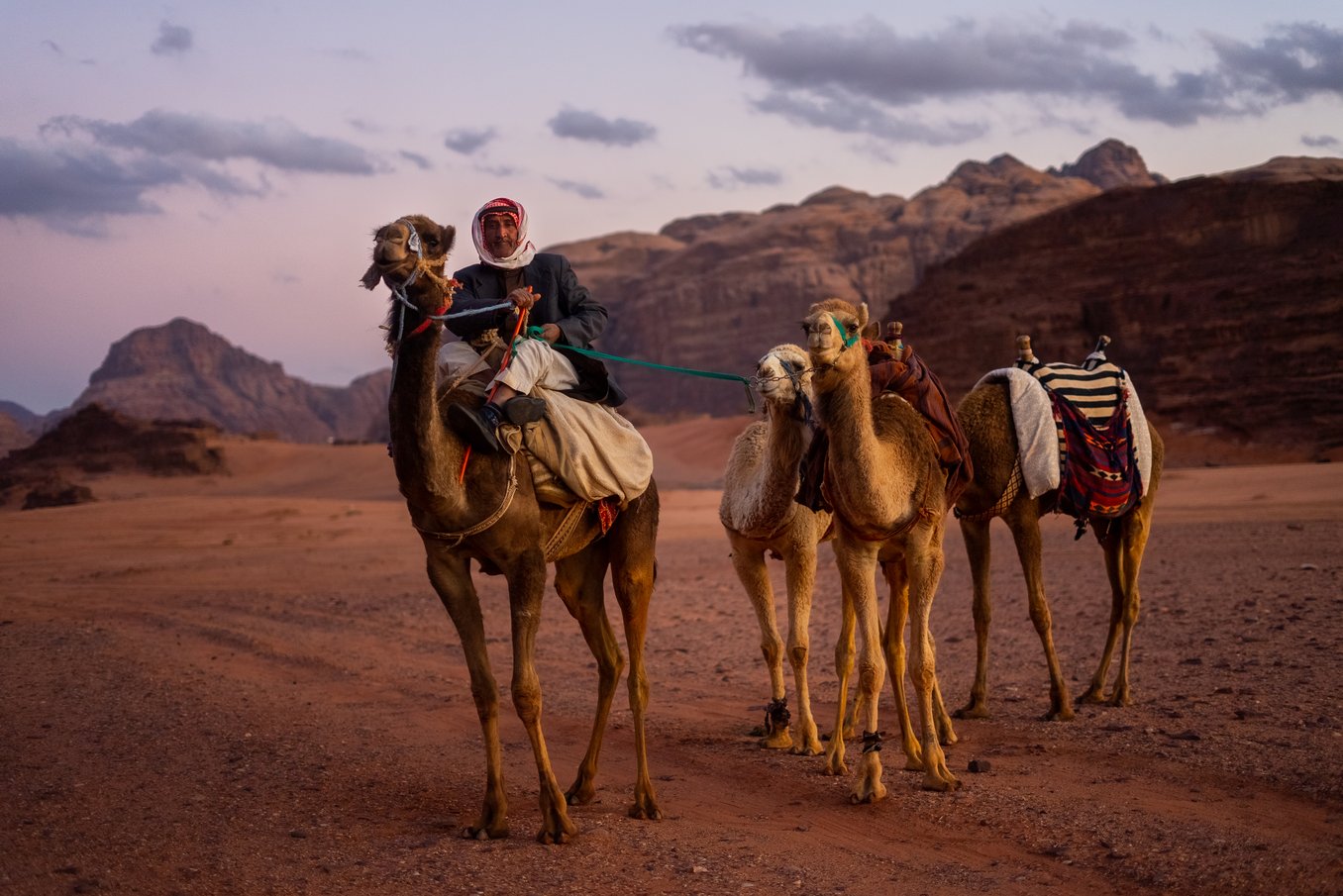 A bucket list destination; good for the spirit, good for the soul.
Riding camels through the Wadi Rum desert, star gazing from my bed in a dome, Jordan's energy is excellent for the spirit. The sunsets in the desert are magical and I must say, are informing my nursery colors. You will leave a trip to Jordan reinvigorated, relaxed and refreshed.
Just finding out that you're pregnant? A trip to Jordan in the autumn would make an excellent mother's day gift! Here's my Jordan babymoon itinerary for moms-to-be.
Amman - 2 Nights
Fly into and out of Amman. Be sure to explore Jordan's capital. A beautiful blend of the new Middle East and ancient history.
Where to Stay. The Ritz Carlton in Amman is centrally located, newly opened and has great dining options.
Where to Eat. Book a cooking class at Beit Sitti for flavors out of an Arabic grandmother's kitchen. Have dinner at Jordan Heritage Restaurant. While exploring outside of the city, save room for lunch at Iraq Al Amir Women's Cooperative. For stylish modern Amman dining, try the shareable plates at Zumot Winery & Vineyards. LOCAL TIP: Make your way to Falafel AlQuds on Rainbow street. You won't regret it.
What to See. We're getting those steps in! An hour north, a morning visit to Jerash can be done before lunch time! Book a street art tour with Underground Amman Tour. Catch a spectacular sunset over the city at Amman Citadel.
Wadi Feynan - 1 Night
This eco desert experience within the mountainous Dana Biosphere Reserve allows you to see the ancient practices of sustainability from the Bedouin locals.
Where to Stay: Peace at the Feynan Ecolodge! This eco-lodge powers down and is lit by candle light at night! Hailed as one of the best 25 ecolodges in the world by NatGeo!
What to See: The Dana Biosphere Reserve is a marvel. Here, in Wadi Feynan you'll see the Bedouin way of life and experience famed Bedouin culture and hospitality.
What to Do: Through the Feynan Ecolodge, enjoy traditional Arabic coffee, Bedouin tea and even get a Kohl eye-liner lesson and application with a Bedouin family in their traditional home. Go on day hikes or biking tours of surrounding ancient copper mines, caves and beautiful gorges, led by local Bedouin guides.
Petra - 2 Nights
There's more to Jordan than Petra, but this is a Wonder of the World!
Where to Stay: Check into Movenpick Petra Hotel for Petra access that is steps away from the archeological park – trust me, this makes all the difference in the early morning wake up to catch the Petra sunrise!
What to Do: Petra of course! With tons of trails and plenty to see in addition to the iconic Treasury, you can spend a whole day, including lunch at Basin Restaurant.
Where to Eat: Go local! Try the new, local and delicious Juniper Restaurant in Wadi Musa. Very local, it's one of the best meals you'll have in Jordan. It's not even listed on Google maps. Next to a spice shop in the downtown plaza it's roughly (30.322, 35.476). Yes, coordinates, that's how local we're getting.
Wadi Rum - 1 Night
Stargazing, meditation, peace of mind, the iconic Wadi Rum desert invites an inner calm.
Where to Stay: Spend a night under the stars at Wadi Rum UFO in a comfortable pod suite. You're in the desert so remember you'll eat in the lodge and the Wadi Rum UFO puts out a scrumptious spread.
What to Do: Enjoy a beautiful sunset camel ride on your first evening. The hotel leads stargazing tours but you can be just as comfortable setting up your camera and enjoying the stars from the deck of your suite. Wake up early and enjoy a once in a lifetime sunrise via hot air balloon with Balloons Over Rum.
The Dead Sea - 2 Nights
End your trip with some spa days! The kind that's been practiced for ages.
Where to Stay: Check into the Kempinski Ishtar Dead Sea Hotel and just relax.
What to Do: A massage in the spa, exploring the properties' many pools – including the spa's Dead Sea salt pool – and a daily plunge and mud in the Dead Sea. This is the end of your holiday and your time to decompress.
Follow Nneya on Instagram @Nneya and check out her blog, 'N A Perfect World.