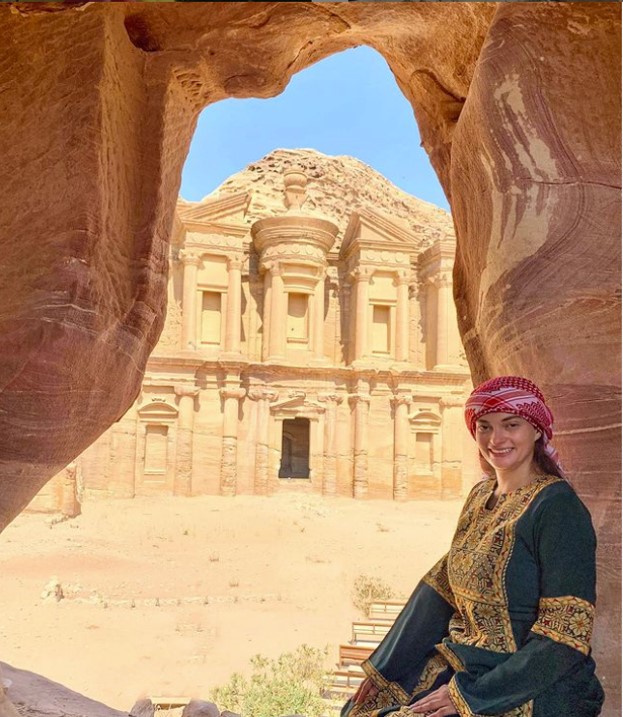 Solo female traveler, entrepreneur, and travel blogger, Jen Ruiz chose to visit Jordan for her first international trip following an 18-month travel halt due to the COVID-19 pandemic.
Prior to her 30th birthday in 2017, Jen set out to take 12 trips in 12 months while employed full-time as an attorney. Her passion for traveling coupled with her anticipation of entering a new decade inspired her to accomplish this mission. Today, Jen is a five-time Amazon bestselling author, three-time TEDx speaker, and "solo travel maven." She hopes to continue seeing and learning about different parts of the world and sharing her experiences with others.
This year, when countries re-opened their borders to international travelers following months of closures due to the pandemic, Jen planned a trip to Jordan, mostly intrigued to visit the ancient stone-carved city of Petra and one of the seven wonders of the world. Soon after arriving in the kingdom, she quickly realized that Jordan has much more to offer, including the beautiful Wadi Rum desert and the Dead Sea, which is the lowest point on earth. Jen's Jordan trip was filled with an array of wonderful cultural and educational experiences.
JTBNA spoke to Jen about her trip to Jordan, her experience visiting the country as a solo female traveler, and the most memorable parts of her trip.
What was your favorite part of the Jordan trip?
It's hard to pick just one! I felt like every day was another bucket list adventure. I enjoyed spending time at the Iraq Al Amir Women's Co-Op outside because I bonded with the women there, despite language barriers. I bought some beautiful, handcrafted souvenirs that I'll treasure forever. I'd be remiss if I didn't mention my time in Wadi Rum at Memories Aicha Luxury Camp. Sleeping in a glass dome under the stars and having astrophotography of me and the Milky Way were both surreal experiences. It felt completely peaceful and undisturbed, a welcome relief in today's chaotic world.
How was this trip different from your other trips?
I have never seen landscapes like I did in Jordan. Endless desert dunes, sandstone carvings centuries old, a sea so buoyant you can effortlessly read while you float. I was also impressed by the depth of the history. It's not every day you get to explore biblical sites, like the Baptism Site of Jesus. I was also impressed that in an area so old, there was no shortage of modern comforts. Air conditioning, en suite bathrooms with amenities containing Dead Sea minerals, and strong Wi-Fi were commonplace. This made it easy to keep in touch with friends and family, and post epic photos on social media along the way!
How was your experience visiting Jordan as a solo female traveler?
This was my first time traveling to the Middle East and I couldn't have had a better experience. There's a lot of fear and misinformation about the region that the news media can sometimes promulgate. I recommend solo female travelers start with Jordan for an introduction to the area that feels easy and non-threatening. The hospitality in Jordan is unmatched and is extended not just by those in the travel industry but locals as well. While there are many ways to get around, having a private driver felt incredibly secure and easy. As a bonus, I made a friend along the way who gave me insights into the country.
How would you describe Jordan to someone who has never been?
It is a country of wonders — natural wonders, world wonders, wonderful food. It is a place that preserves relics of the past and invites you to enjoy them in style. You will feel like an adventurer as you ride jeeps and camels. You'll be happily stuffed full of Zarb, an underground BBQ that will have you asking for seconds (and thirds!). You'll feel like royalty when you experience Jordanian service — everyone goes above and beyond to ensure you experience the best there is to offer. And from the piping hot tea to the handmade local goods, everything you find here will be the very best. If you're nervous about traveling to the Middle East, Jordan should be your first stop. It will make you question why you didn't visit sooner.
What about Jordan intrigued you the most to visit?
I came for Petra, intrigued by the possibility of seeing the site without the crowds as travel makes a slow comeback. I was pleasantly surprised to find that Jordan had much more for me to discover. I'll never forget nights spent in the desert, star-struck by the glimmer of the night sky. I even spotted Jupiter and Mars during my stay! I'll always laugh when I think back on my attempt to make shrak, a traditional Jordanian bread, and how the instructor made flipping the dough look deceptively easy. I'll treasure the souvenirs I purchased, from homemade paper items to a bold red and white headscarf. I'll stay connected with friends I made during my stay, and look forward to reuniting one day. I stayed 10 days but have memories to last a lifetime, and for that I'm most grateful.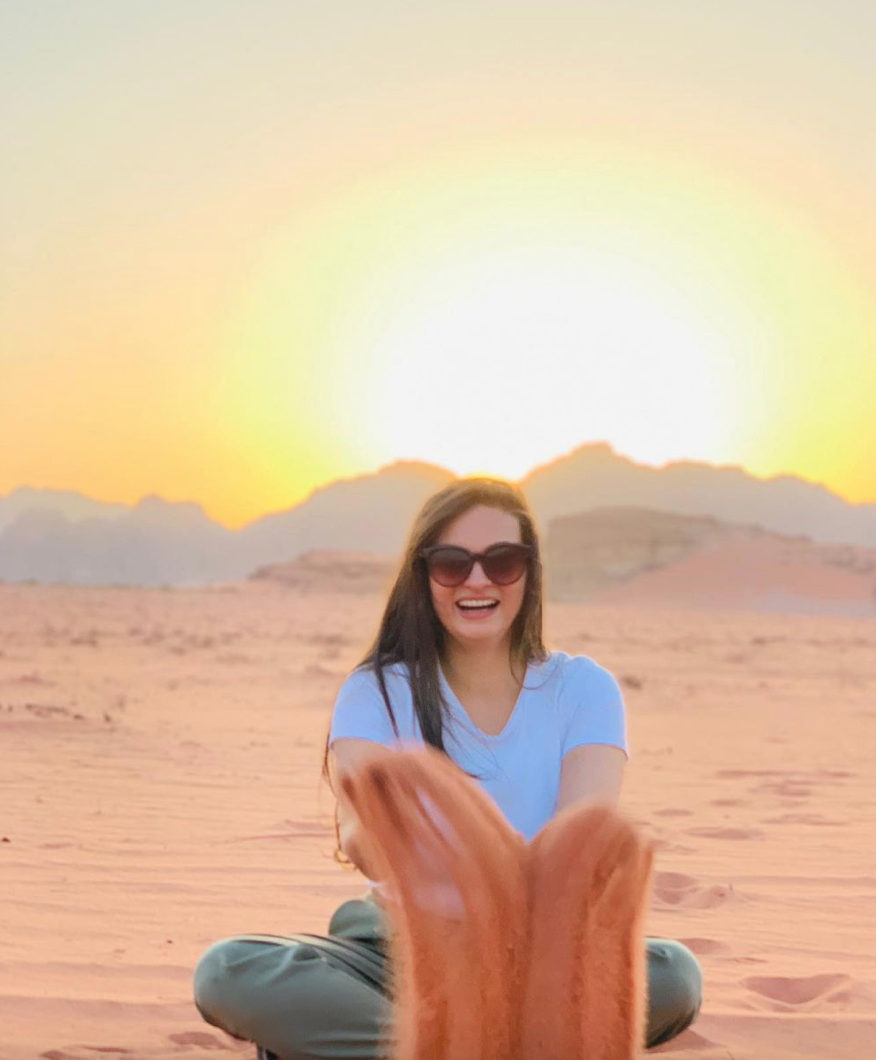 During Jen's trip, she enjoyed a special camping and stargazing experience in Wadi Rum.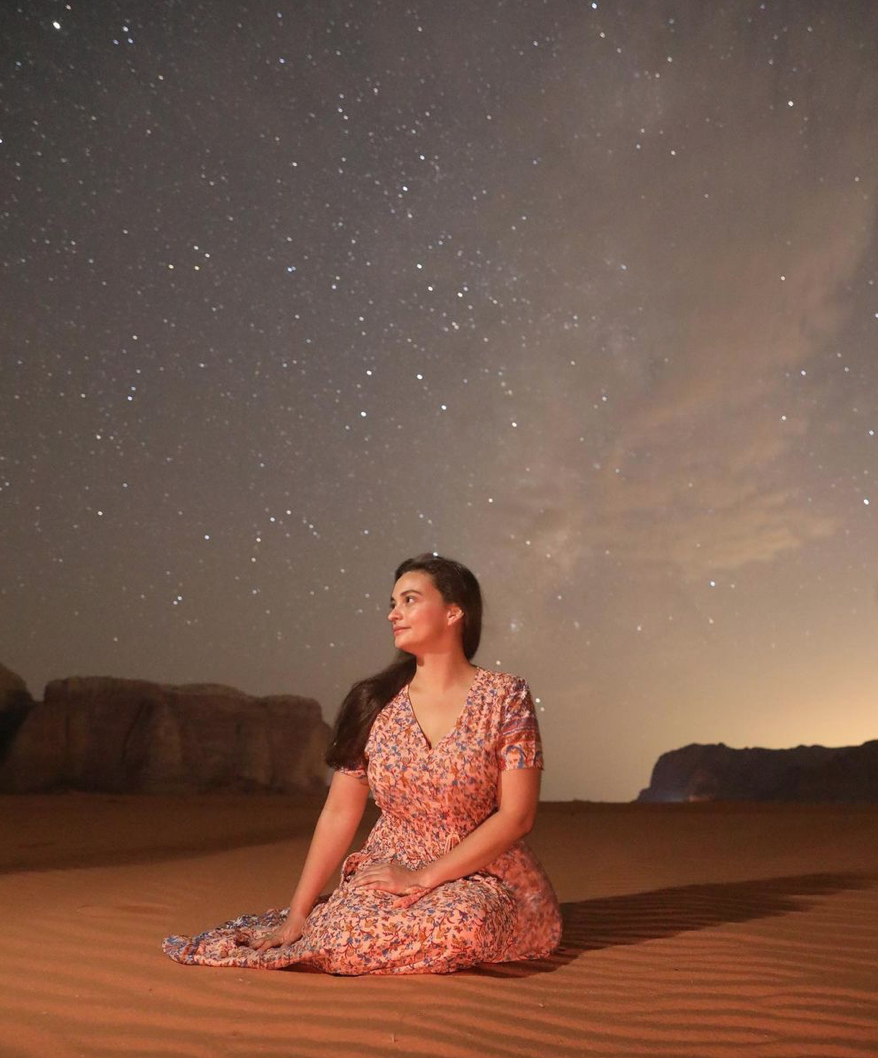 Jen's experience in Petra was nothing short of incredible. She stayed at the Marriott Petra Hotel during her stay.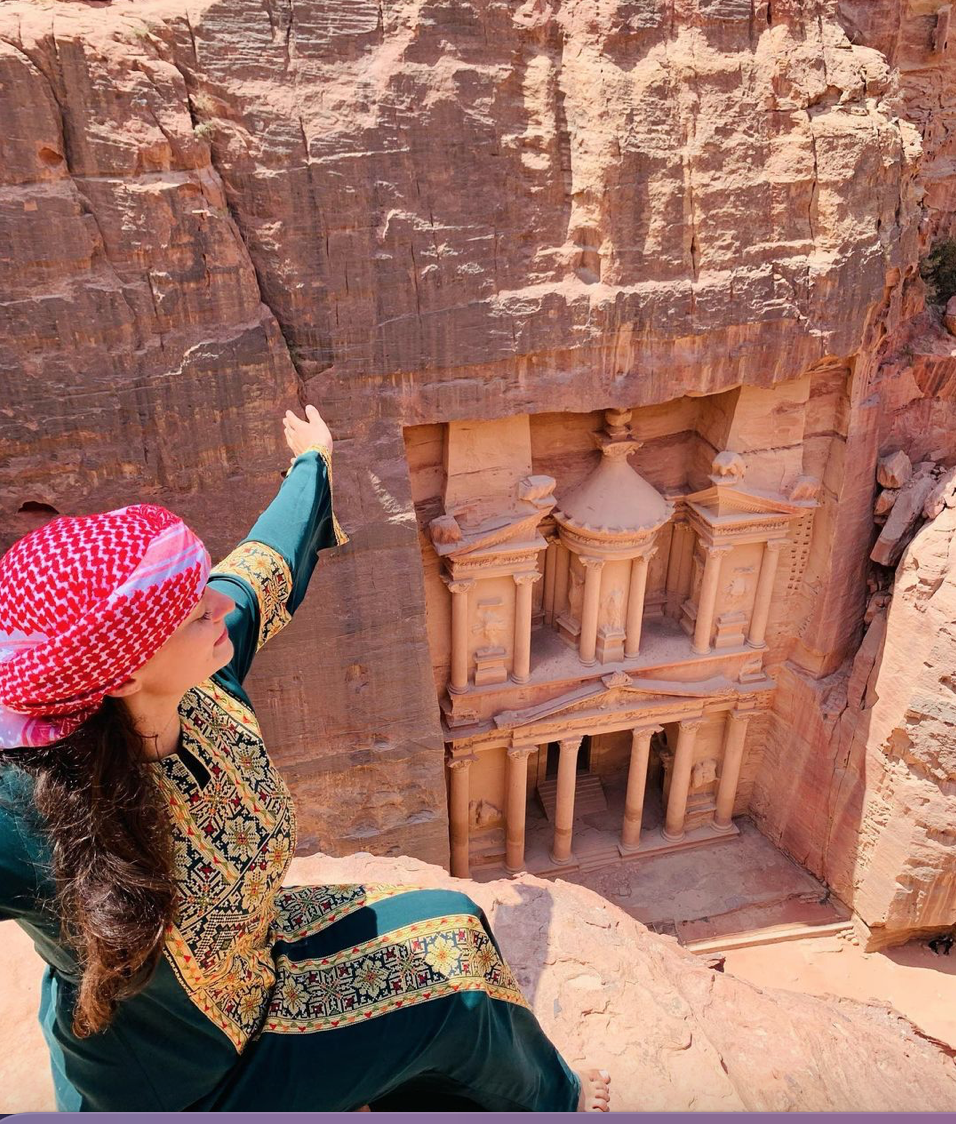 During her time at the Dead Sea, Jen enjoyed floating in the sea's salty body of water, covering her body in natural mineral-infused mud, and eating local dishes, including "foul, labneh, and mouttabal."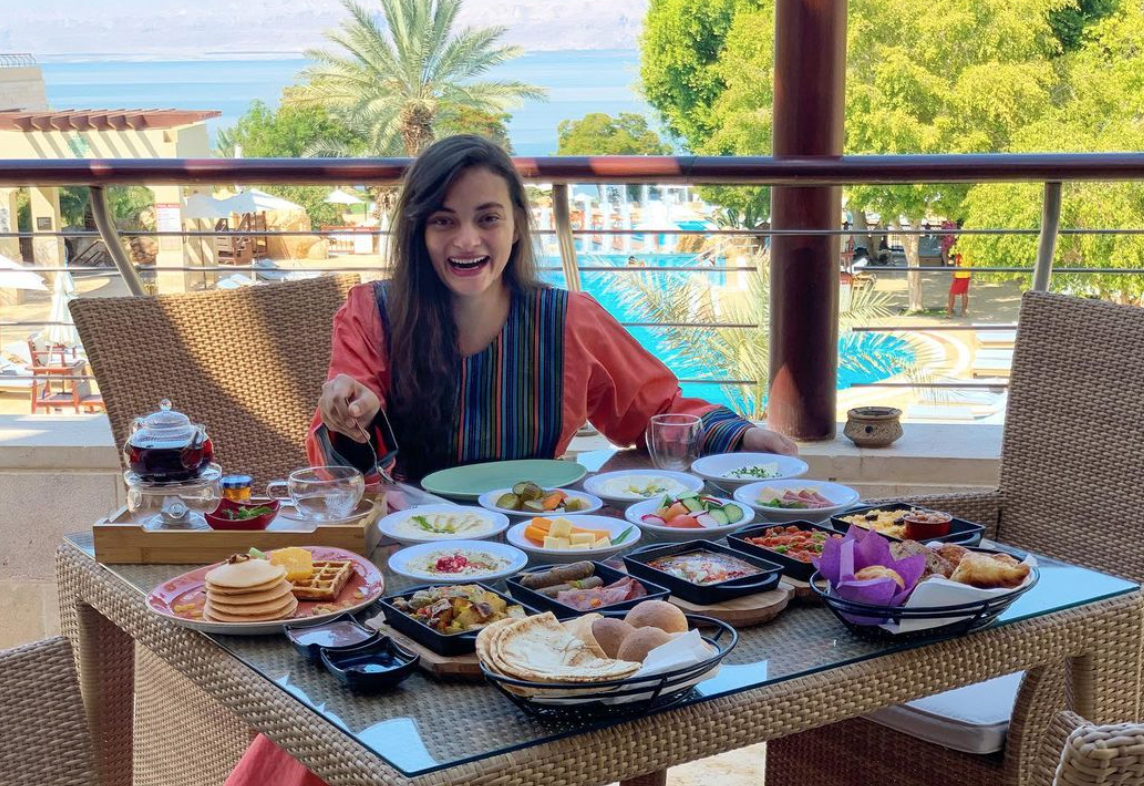 Jen also added some adventure to her trip with a hiking experience through rivers and canyons in Wadi Mujib, the lowest nature reserve in the world, located near the coast of the Dead Sea.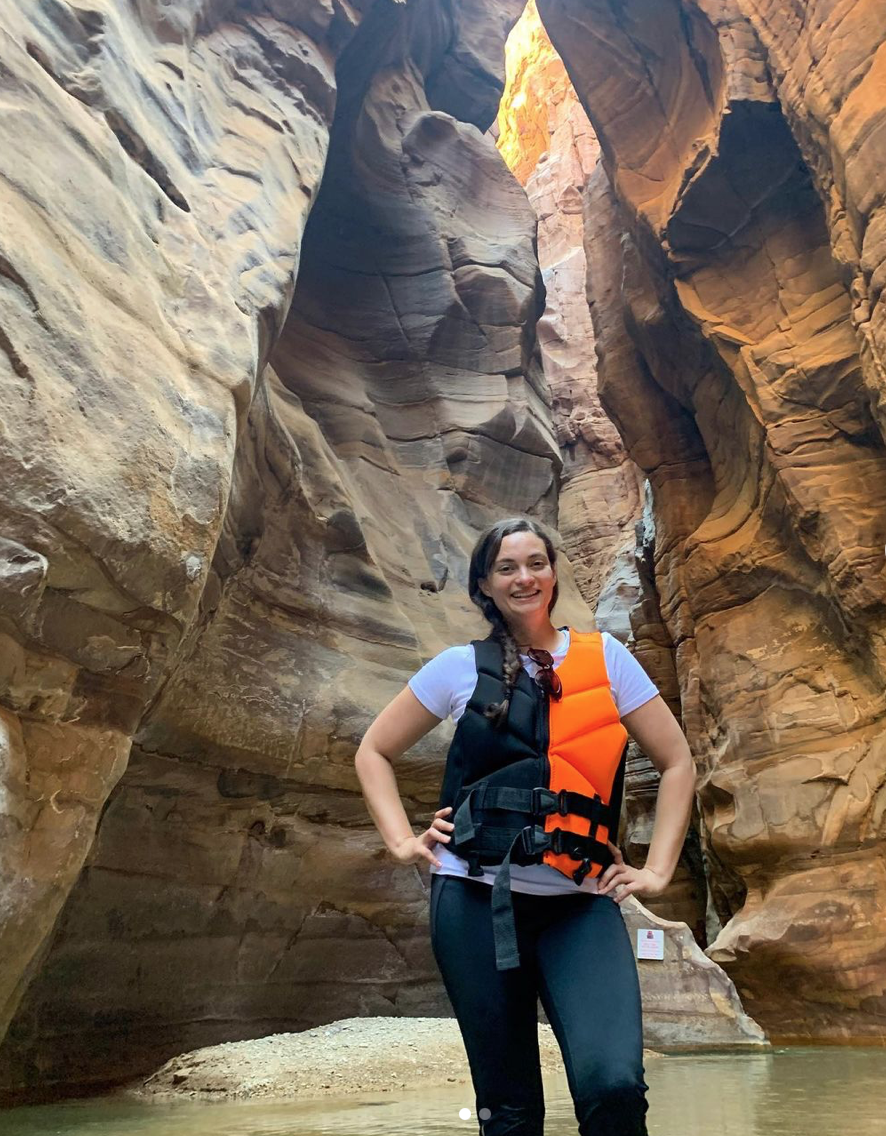 To see more highlights from Jen's trip, be sure to checkout her Instagram stories.