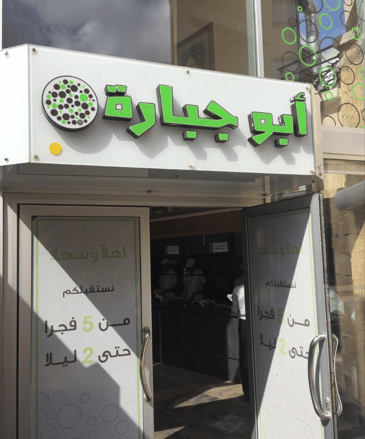 One of the best parts of traveling is the opportunity to sample the local cuisine. In Jordan, this is especially true. Many Jordanian dishes remain relatively unknown outside of the Middle East, making culinary travel in this country a unique and exciting experience.
Read on to discover some of the best places to enjoy authentic Jordanian foods (such as mansef, moutabel, and shishbarak!).
Start your day off right with coffee, pancakes, and … hummus.
Breakfast in Jordan often includes such staples as fresh pita with olive oil and za'ater (a delicious thyme spice mix), ful (fava bean dip), hot tea with fresh mint, and strong Arabic coffee flavored with cardamom.
In Jordan, it's also common to eat hummus for breakfast. A great place to enjoy a typical Jordanian breakfast is Abu Jbara, a casual restaurant that serves items such as hummus, pita, and fresh vegetables. The hummus with pine nuts is particularly delicious, and it's hard to find better falafel anywhere.
If you're looking for a more Western-style breakfast menu, check out Books at Cafe, a bright and welcoming cafe that is attached to an English-language bookstore. Here, familiar breakfast staples such as French toast, pancakes, and omelets are prepared with the same skill as Jordanian breakfast dishes such as delectably fluffy za'ater pastries.
Whether you choose to sip a latte or a cup of Arabic coffee, you're sure to have an amazing breakfast or brunch here.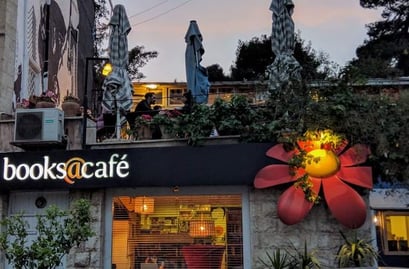 Lunch options in Amman range from simple street food to lavish three-course meals.
Lunch in Jordan is traditionally the largest meal of the day, and on occasion, it can include multiple courses.
Experience a typical Jordanian meal in all its glory at Tawaheen al Hawa. You'll start with an array of fresh salads and savory pastries, as well as dips such as hummus and moutabel (garlicky eggplant dip). Be sure to save room for the main course, too: The grilled chicken, kebabs, rice, and vegetables are excellent. For dessert, you can enjoy fresh fruit and small sweet pastries with coffee and tea.
For a casual midday meal served outdoors in the bustling downtown area, try Hashem Restaurant. This place is nothing short of legendary: It's known to be the oldest restaurant in Amman. Hashem has no official menu, but ask for some of everything and you'll be brought dish after dish of hummus, pita, salads, falafel, moutabel, and fries. A satisfying lunch here will cost you only a couple of dollars, and it's so good that you may be tempted to return the next day.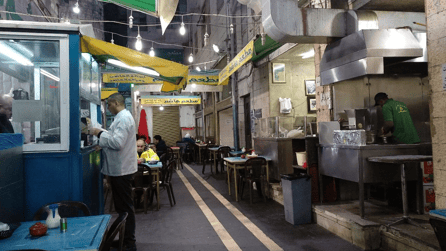 For a delicious dinner, mansaf is a can't-miss experience.
Traditionally, Jordanians tend to eat a lighter evening meal. However, there are many restaurants in Amman that stay open late, so if you're hungry after a day of sightseeing, you'll have plenty of options for a hearty dinner. Sufra, which serves delicious, authentic Jordanian food, is open until 11 p.m. This is the perfect place to try mansaf, the iconic national dish of Jordan. Mansaf is made with deliciously seasoned lamb, yogurt sauce, rice, and pine nuts and is served with Arabic flatbread.
For an immersive culinary experience, try an evening cooking class at Beit Sitti in Amman, where friendly teachers will teach you how to make a delicious Jordanian meal using fresh local ingredients. Learn how to cook classic dishes such as shishbarak (small meat dumplings in a savory yogurt sauce) and qaliyat bandoora (a well-spiced, garlicky tomato stew). While cooking, you'll have ample opportunities to talk to your teachers about the local cuisine and culture.
What better way could there be to experience Jordan?
The only downside of eating such amazing Jordanian cuisine on your travels is that you may become spoiled: You'll never be able to eat hummus from the supermarket again, and store-bought pita can't compare with fresh-baked!
Before you leave, buy some spices and ingredients from the souq (the outdoor market) so that you can try to replicate your favorite dishes in your kitchen at home.
---
Your Jordan Journey is waiting for you! If you would like to learn more about the many different places you can visit in Jordan, check out our Build My Jordan Journey tool to customize your own itinerary!