Members of Tourism Cares, Jordan Tourism Board, and Jordan Inbound Tour Operators Association (JITOA) after announcing the partnership.
Two years ago, the Jordan Tourism Board and JITOA (Jordan Inbound Tour Operators Association) announced their partnership with Tourism Cares, the public charity dedicated to help restoring and preserving top sites around the world. The partnership is aimed at supporting Jordan's destination communities and cultural heritage.
Today, the event is kicking off in Amman, Jordan. Featuring 12 experiences offered by a nonprofit or social enterprise that, in addition to providing a quality cultural experience for travelers, also has a program for directly benefiting a disadvantaged population.
On the partnership, Malia Asfour, Director of the Jordan Tourism Board North America (JTBNA) said, "the partnership between the Jordanian tourism sector and Tourism Cares is yet another important milestone Jordan is taking to help develop corporate social responsibility programs for our trade and involve the travel community in preserving our sites for tomorrow and future generations. Tourism Cares expertise can help our sector in the development of sustainable tourism projects similar to programs that were started in Peru and Nepal." Read more about the partnership in our original blog post here.
.
The twelve organizations featured are:
Al Numeira Environmental Association

: bike, snack and get dirty in their gardens and other projects, learning with one of the Rift Valley's newest social startups.

Ammarin Bedouin Camp

: any stay at this camp founded and owned by the local bedouin promises living heritage and impact in the shadow of Petra.

Bait Khayrat Souf

: this tranquil kitchen and garden serves up local breakfast, goods, and cooking lessons while providing training and jobs to local women.

Baraka Destinations

: the perfect detour for the social traveler – experience this cluster of local tourism experiences and businesses in villages off the beaten path.

Bani Hamida Women's Weaving Project

: try your hand at traditional weaving, boosting women's rights and livelihoods.

Feynan Ecolodge

: go green and local at this award-winning lodge at the Dana Biosphere – and build local jobs and conservation.

Iraq al Amir Women's Cooperative

: learn traditional papermaking, pottery and more with your family at this renowned center for local training and knowledge.

The Jordan Trail Association

: hike any stretch of its 650 unique kilometers and drive communities forward with every step.

Montreal Hotel

: re-enact the battles of Saladin and the Crusaders and support the veterans of today.

Royal Society for the Conservation of Nature

: explore and shop with Jordan's environmental champion, with things to do and impact everywhere.

Summaga Café

: take a break during your visit to Ajloun Castle to dine on 100% organic fare from a women-led farmers' cooperative.

Syrian Jasmine

: celebrate multicultural Jordan by learning soap-making and crochet, helping their newest residents and women entrepreneurs.
As the event continues, a group of 70 leaders from the North American travel industry are meeting to explore the travel industry's potential to drive social impact through tourism.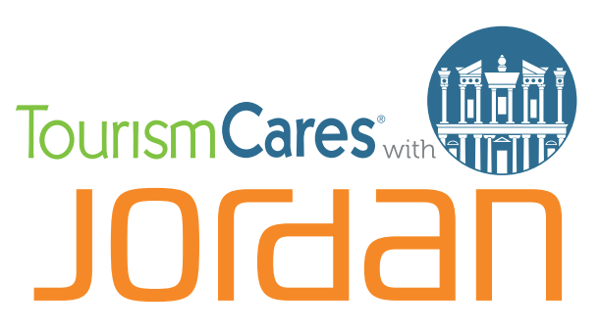 The Tourism Cares with Jordan project is made possible by the TRIP Foundation, Trip Mate, The Travel Corporation, American Society of Travel Agents, Marriott hotels of Jordan, the Bob Whitley Memorial Fund and the Jordan Tourism Board.
---
Explore Jordan's social enterprises and learn more about how you can add them to your Jordan Journey on the Meaningful Travel Map of Jordan!